Safety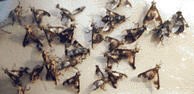 Insects at Ft. Frederica
Insects have always been a part of life at Frederica. Settlers arriving from England cursed the insects that plagued their new home. Modern day visitors should be prepared for insects by bringing appropriate clothing and/or insect repellant.
Biting Flies: also called "yellow flies" or "deerflies", are most active in late spring, and appear again in August.
Chiggers: are small red mites. Chigger "cures" are ineffective because the bug is gone before the itching begins. Chiggers live inside spanish moss. Avoid chiggers by avoiding spanish moss.
Mosquitos: certain mosquitos can be vectors of disease. Wearing repellant with DEET will reduce the chances of being bite.
Sand Gnats: the tiny sand gnat (also called the "sand fly" or "no see-um") appears in large numbers during mild temperatures.
Ticks: There are many species of ticks in the Frederica area. Wearing insect repellant, tucking pants into socks, and inspecting for ticks after a visit is recommended.
Last updated: April 14, 2015