Cooperating Association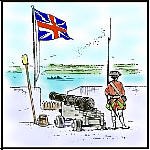 The Fort Frederica Association was formed in 1940 for the purpose of acquiring and developing the site of the 18th century town and fort of Frederica. Thanks to their efforts, on August 30, 1945, Fort Frederica was officially established as a National Monument.
For over 60 years the Fort Frederica Association has participated in the development of Frederica, and has created and administered the park's bookstore. Profits from the Association bookstore fund special projects at Fort Frederica National Monument.
Visit the Bookstore...


Last updated: April 14, 2015