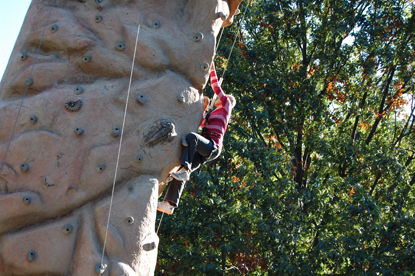 News Release Date:
September 19, 2012
Contact: Thomas Safranek, 202-426-7723
Contact: Julie Kutruff, 202-426-5961
Contact: Kenya Finley, 202-426-7723
Fort Dupont Park hosts "Feet in the Street"
Washington D.C. - The National Park Service (NPS) will host the fourth annual "Feet in the Street" event on Saturday, September 22, 2012, from 10 a.m. to 4 p.m., at Fort Dupont Park. The NPS is excited to team up again this year with the District of Columbia Department of Transportation (DDOT), and for the first time with World Car Free Day! The daylong event will help promote physical activity, green transportation choices, healthy eating, community spirit, and will include an array of recreational and educational opportunities. To create a welcoming and safe event, the roadways in the park, including Fort Davis Drive and Fort Dupont Drive, will be closed to motorized vehicles from 10 a.m. to 5 p.m.
All are invited to come put their Feet in the Street and run, walk, bike, skate, and cook! There will be organized activities and programs including:
Guided nature hikes

Rock climbing wall

Physical fitness classes (Yoga, Zumba, and a boot camp)

Community garden and bee hive tours

Healthy cooking demonstrations

Farmer's Market

Face painting

Mountain bike tours of the Hiker/Biker trail

Free bike rentals courtesy of Bike and Roll

Capitol Bikeshare test rides and free ride coupons

Free Concert from 2-4p.m.

Much more!
"Car Free Day" is an international event celebrated every September 22nd in which people are encouraged to get around without cars and instead ride a train, bus, bicycle, carpool, subway, or walk. The day creates less traffic congestion, a greener environment, and reduced gasoline demand.
Participants are encouraged to cycle, walk or take transit to the event. A limited amount of parking will be available in the park near the intersection of Minnesota Ave and F St SE. The park is also accessible by Metro Bus. If you have any questions call the Fort Dupont Park Activity Center at 202-426-7723 and please check out our website, www.nps.gov/fodu.
www.nps.gov
National Capital Parks-East offers a wide array of historic, cultural, and recreational areas that are part of Washington, D.C. and its eastern environs.The park is comprised of over 8,000 acres of federal land, ranging from community parks and National Historic Sites to unique wetland ecosystems, meadows, and mature hardwood forests.