Flight 93 Design and Construction Updates
Timeless in simplicity and beauty, like its landscape, both stark and serene,
the Memorial should be quiet in reverence, yet powerful in form,

a place both solemn and uplifting.
Paul Murdoch, Architect
Flight 93 National Memorial has come a long way since Congress
authorized its development in 2002. An international competition was
conducted
to choose the design for the permanent memorial and over
1,000 entries were submitted. The work of Paul Murdoch Architects and Nelson Byrd Woltz Landscape Architects was selected after a
two-stage
competition. That design is now taking shape. The first features of the memorial were
dedicated on
September 10, 2011. The Visitor Center opened to the public on September 10, 2015. Work continues on the remaining features.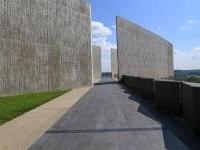 Visitor Center
On September 10, 2015, The Visitor Center Complex was dedicated. The reforestation effort continues. Check on current progress.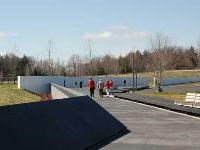 Memorial Plaza
On September 10, 2011 the first features of the memorial were completed and dedicated. These include the new entrance, new roads, and the Memorial Plaza at the crash. Explore these features.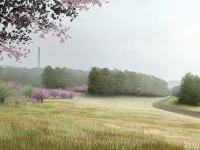 Tower of Voices
On September 9, 2018, the Tower of Voices was dedicated. Eight Chimes are currently installed with the remaining 32 to arrive later this year.
Last updated: September 7, 2018