Current Progress
Visitor Center Complex is Complete and Now Open
Updated September 10, 2015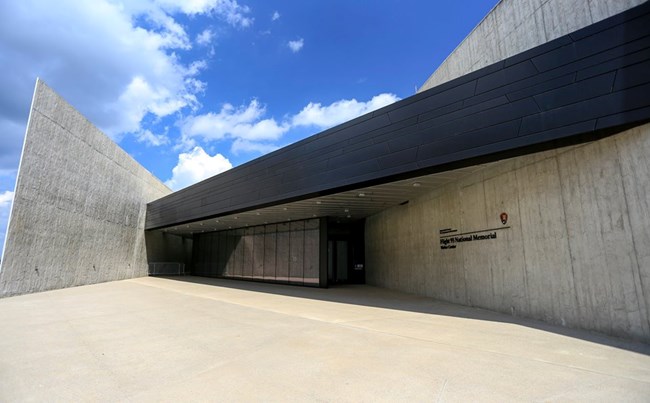 Visitor Center Complex
Updated 9/10/2015
The Visitor Center Complex consists of the Visitor Center, Flight Path Walkway, and Learning Center.

Visitor Center - Complete and open

Flight Path Walkway - Complete and open

Learning Center - Complete and open

Dedication/opening - September 10, 2015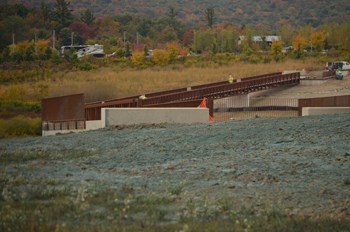 Wetlands Bridge
Complete and open
The bridge will allow visitors walking the Allée to cross the wetlands and then walk to the Memorial Plaza at the crash site. The bridge will provide opportunities for reflection and changing views of the wetlands habitat. Current progress includes:

Grass seeding around abutments - Initial seeding complete

Installation of railings on abutments - Complete

Installation of benches - Complete

Placement of trusses - Complete
Visit our keyboard shortcuts docs for details
Duration:

43 seconds
We took delivery of the first of the trusses for the Wetlands Bridge on Wednesday June 18 and the contractor put them in place Wednesday-Thursday. Watch a short clip of one of the trusses being positioned on piers.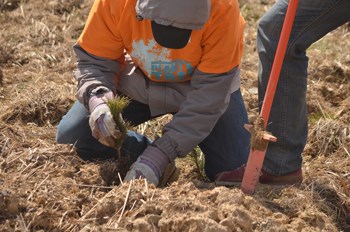 Reforestation
Updated 4/23/2015
Plant a Tree at Flight 93, a multi-year, multi-partner efforts to reforest major portions of this former surface mine, has been a big success. Current progress includes:
Wide variety of species planted
Reintroduction of blight-resistant chestnut trees
2012 - 13,000 seedlings planted on 20 acres

2013 - 15,000 seedlings planted on 23 acres
2014 - 19,500 seedlings planted on 30 acres
2015 - 22,000 seedlings planted on 32 acres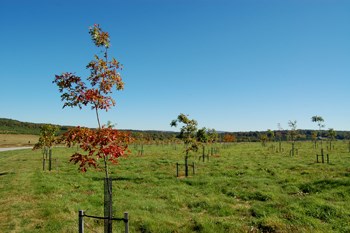 Memorial Groves
Updated 5/7/2014
The 40 Memorial Groves will sweep along the inside of the Ring Road from the Visitor Center Complex to the Memorial Plaza. Planting of the Groves is nearly complete. Major progress includes:
Planting groves 1- 40 -

99%

Complete

Groves 1-24 -

planted Spring 2012

Majority of Groves 25-40 -

planted Fall 2012

Strong grass growth throughout Groves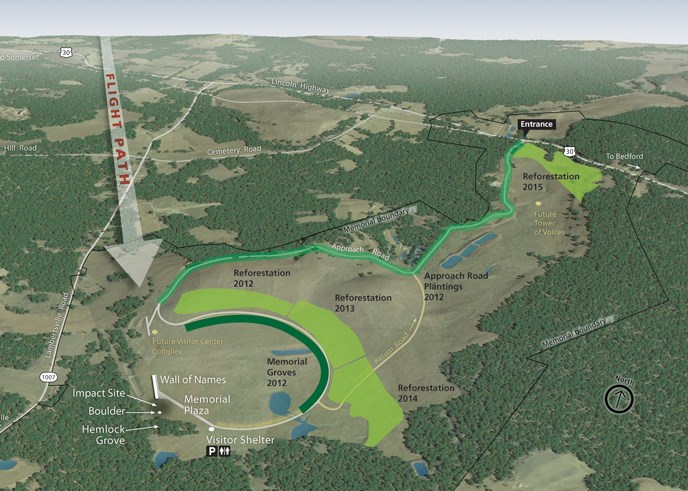 Last updated: April 27, 2020