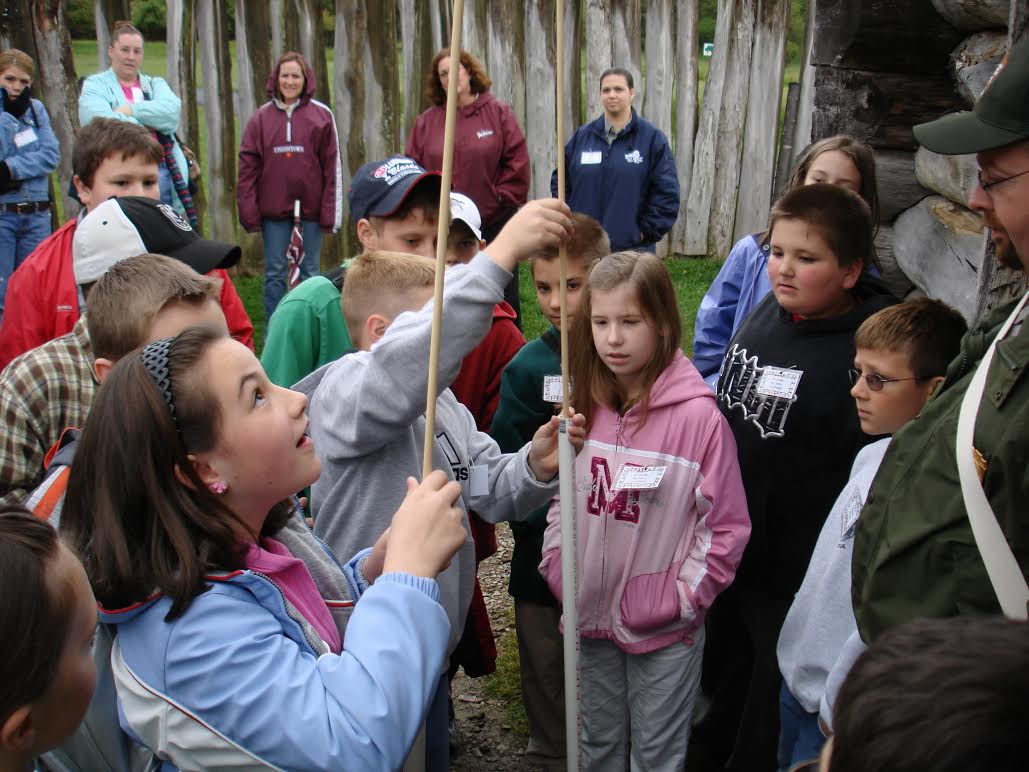 News Release Date:
September 1, 2015
Contact: MaryEllen Snyder, 724-329-8131
Farmington, PA –The five National Park Service sites in Western PA invite all 4th grade students to visit the parks for free as part of the White House's new Every Kid in a Park program. Starting September 1, 4th grade students can now go to www.everykidinapark.gov to complete an activity and obtain a free annual entry pass to more than 2,000 federal recreation areas, including national parks. The three National Park Service sites now free to every 4th grader and their family members include;Fort Necessity National Battlefield, Johnstown Flood National Memorial and Allegheny Portage Railroad National Historic Site. The other two Western PA National Park Service Sites;Friendship Hill NHS and Flight 93 National Memorial do not charge an entrance fee. 
Western PA National Park Superintendent Stephen M. Clark and his staff of park rangers are looking forward to welcoming thousands of 4th grade students and their families when they stop by one or more of the five National Park Service sites in Western PA. Clark shared "The five National Park Service sites in Western PA are great places to learn about our countries history from the first battle of the French and Indian War in 1754 at Fort Necessity to the story of the Heroes of Flight 93 at the Flight 93 National Memorial near Shanksville PA. Fourth graders and their family members will also enjoy hiking on the parks trails and touring the five parks visitor's centers including the new visitor center at Flight 93 National Memorial which will be dedicated on September 10th ." 
"During the National Park Service's centennial celebration, we want everyone to get to know their national parks, and we're offering a special invitation to fourth graders and their families to discover everything that national parks offer," said National Park Service Director Jonathan B. Jarvis. "We hope these free passes for fourth graders and their families will introduce 4th graders, their classes, and families to our national treasures, places where they can run and play, explore and learn." 
The five National Park Service sites in Western PA have a variety of activities that all levels of students and their family members can take part in including, participating in fun "hands on" curriculum based education programs, becoming a junior ranger, touring historic homes and education centers, exploring a battlefield, and taking hikes on over 25 miles of trails. 
To receive their free pass for national parks, fourth graders need to visit the Every Kid in a Park website and play a game to access their special Every Kid in a Park pass. Fourth graders and their families can then use this pass for free entry to all national parks and other federal public lands and waters across the country from September 1st, 2015 through August 31, 2016. The website also includes fun and engaging learning activities aligned to educational standards, trip planning tools, safety and packing tips and other important and helpful information for educators and parents. 
In addition to providing every fourth grader in America with access to a free entry pass for national parks and federal public lands and waters, fourth grade educators, youth group leaders and their students across the country will also participate in the program through field trips and other learning experiences. 
The goal of the Every Kid in a Park program is to connect 4th graders with the great outdoors and inspire them to become future environmental stewards, ready to preserve and protect national parks and other public lands for years to come. The program is an important part of the National Park Service's centennial celebration in 2016, which encourages everyone to Find Your Park. 
Every Kid in a Park is an administrative-wide effort, launched by President Obama, and supported by eight federal agencies, including the National Park Service, the Army Corps of Engineers, Bureau of Land Management, Bureau of Reclamation, Department of Education, Fish and Wildlife Service, Forest Service, and National Oceanic and Atmospheric Administration.
For Western PA National Park information visit the park's website at www.nps.gov/flni/planyourvisit, Facebook pages, email WEPAinformation@NPS.gov or call MaryEllen Snyder at 724-329-8131 to learn more about the five National Park Service sites located  in Western PA.
NPS