Laws & Policies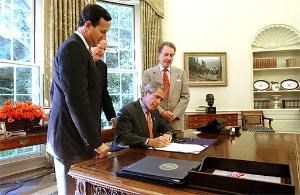 Flight 93 National Memorial Act
(P.L. 107-226)
On September 24, 2002, Congress passed the Flight 93 National Memorial Act. An Act "To authorize a national memorial to commemorate the passengers and crew of Flight 93 who, on September 11, 2001, courageously gave their lives thereby thwarting a planned attack on our Nation's Capital, and for other purposes." The Act also designated Flight 93 National Memorial as a unit of the National Park Service.

This compendium provides for designations, closures, permit requirements, and other restrictions imposed under the discretionary authority of the Superintendent of Flight 93 National Memorial. A signed copy will be provided on request.
Firearms in National Parks
The law governing possession of firearms inside a national park changed on February 22, 2010.
Visitors may possess firearms within a national park unit provided they comply with federal, state, and local laws.
The role of the responsible gun owner is to know and obey the federal, state, and local laws appropriate to the park they are visiting. For more information on Pennsylvania firearm laws please visit the Pennsylvania State Police website.
Please remember that federal law prohibits firearms in certain park facilities and buildings. These places are marked with signs at public entrances.
Last updated: February 20, 2022