Guided Tours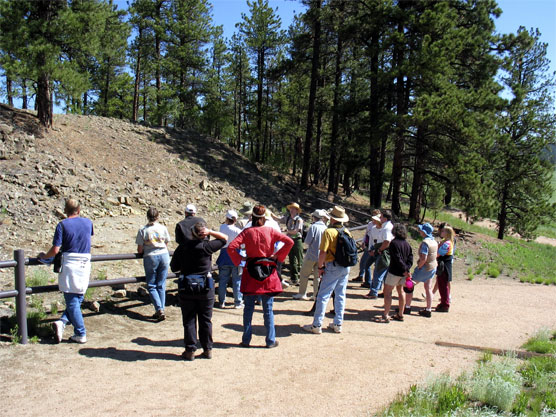 Ranger Guided Activities:
Between June 1 and Labor Day, the Monument offers a variety of ranger-guided tours. The number and times of tours may change depending on staffing levels so please call ahead at (719) 748 - 3253. The types of tours available are listed below:
Interpretive Talks
These are 30 minutes talks that take place in the amphitheater behind the visitor center. They will provide visitors with the basic geologic story of the area.
Guided Walks
These walks usually last 1.5 hours and are one mile in length. The area's geologic history as well as other topics such as modern natural history and human history may be covered in the walks.
Demonstration Site
Take a 1/2 mile walk and visit the Demonstration Site. Learn from rangers and/or paleontologists how excavations are conducted and see where fossils are found.
Fossil Learning Lab
Visit a field lab (just south of the parking lot) and use microscopes and other equipment to discover fossils.
Hornbek Homestead Tours
Depending upon staffing levels, visitors are sometimes able to join a ranger and tour the buildings of the Hornbek Homestead. If a ranger is not available it is possible to tour the grounds of the homestead on your own.