Make Your Own Big Stump Face Art Activity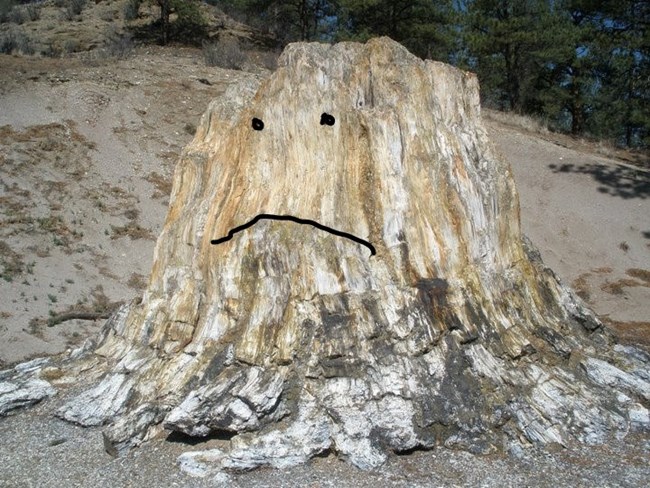 As some of you may know, Florissant Fossil Beds protects some of the largest petrified tree stumps in the world (by diameter) Did you know that in the late 1800s some people tried to saw "The Big Stump" in to pieces to send to the World's Fair in Chicago. You can still see the broken saw blades in the stump. If you look close enough, you can even make out a grumpy face on the Big Stump.
Here's where you come in. Below, the photo gallery, you will see 4 pictures and 1 coloring sheet for you. One photo is the Big Stump - can you find the broken saw blades? The next photo has the grumpy face outlined so you can see it better.
We've made a blank "Big Stump" coloring sheet. You can print it off and make your own Big Stump Face. Be creative. We've given a few examples - one Big Stump is happy because the Mountain Bluebirds returned. The other Big Stump is adventurous (p.s. motorized vehicles are not allowed on the trails at Florissant Fossil Beds.)
If you'd like, send your finished Big Stump face picture to flfo_information@nps.gov and with your permission we'll will put it up on this website or our Facebook page. Can't wait to see them.
Enjoy! Enjoy! Enjoy!
Last updated: April 14, 2020