The Pioneer Life and Times of Adeline Warfield Hornbek
Adeline Warfield was born in 1833 and raised in the farming country of Franklin County, Massachusetts. She was 17 years old when the first National Woman's Rights Convention was held nearby in Worcester. The convention speakers told the young women of Massachusetts and of the nation "to be individuals and be all that they are capable of". Possibly inspired by this social movement that challenged the view of the traditional roles of women, she along with her brother and his wife, left Massachusetts and traveled westward in the early 1850's dreaming of a new life in the frontier.
The Warfields settled in the Creek Nation, a Native American territory in what is now Oklahoma, where her brother worked as an Indian trader. When the American Civil War started in 1861, Adeline was married to Simon Harker, her brother's business partner, and was raising their two young children and helping operate at least two trading posts. Unfortunately, the Civil War split the Indian Nation apart, and terrible violence ensued between the different tribes. Seeking safety, Adeline, Simon, and their two children left the Indian Territory and resettled in the rapidly growing territory of Colorado.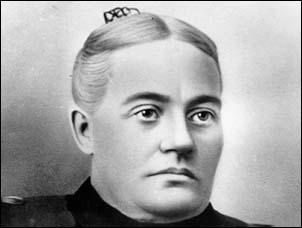 Laboring alongside her husband, she helped start a new life for her family near the mining settlement of Denver. She and Simon established a cattle ranch near the stage road that led to Denver. They sold cattle and produce to the miners and new immigrants. In 1863, Adeline gave birth to her third child. In the spring of 1864, a historic flash flood ravaged Denver and the area of Adeline's ranch. Many lives were lost, livestock drowned, and ranches were devastated. Already suffering from tuberculosis and then exposed to the flood, Simon became seriously ill and died weeks later. Adeline was left alone – a widow with three small children to raise, a destroyed ranch, and an uncertain future.
Adeline was only 31 years old but was a seasoned pioneer woman when her husband died. She was able to harness and ride horses and manage a cattle ranch. Demonstrating great courage, she decided to stay on her ranch and rebuild. Needing full time help, she hired a former gold miner named Elliot Hornbek to work on the ranch. In 1866, she married Elliot and her fourth child was born in 1870. Unfortunately, the marriage didn't last and he abandoned Adeline and her family a few years later.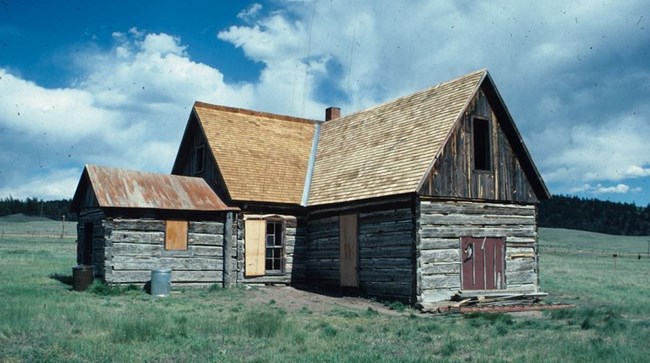 In 1876, as Colorado celebrated its statehood, Adeline relocated for the last time to an area known as the Florissant Valley. At an elevation of 8500 feet, this alpine valley was covered with large meadows of wild buffalo grass and acres of aspen and pine trees. This was the ideal conditions for a free-grazing cattle ranch. With the help of her neighbors and her teenage children, she built a two-story log house with 5 rooms and a parlor that would be the center of her new ranch. Historically, Adeline would be one of the first women to file a Homesteading Claim in the Florissant Valley and the state of Colorado.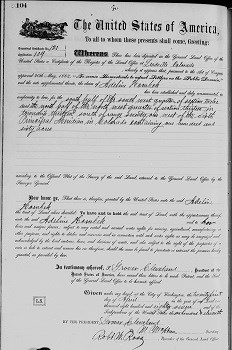 Over the next few years, Adeline's ranch grew and eventually doubled in size. She owned as many as 100 cattle with her own registered cattle brand and employed several ranch hands. As the community also grew, she devoted more of herself to helping the homesteaders of Florissant valley prosper. he helped establish the Florissant school board, which hired a teacher, and built the first school in the area. She opened her home to social events that helped establish Florissant as a successful homesteading community.
In 1893, Adeline and other women voted legally for the first time in Colorado. Historians argue that women of the frontier, like Ms. Hornbek, proved they had earned their right to vote. It was not a coincidence that states like Colorado, Utah, and Wyoming were the first to recognize the equality of men and women. Twenty-seven years later, the 19th Amendment gave many women in the United States the right to vote.
Click Here to learn more about Adeline Hornbek's Homestead
Last updated: August 15, 2022