Education Center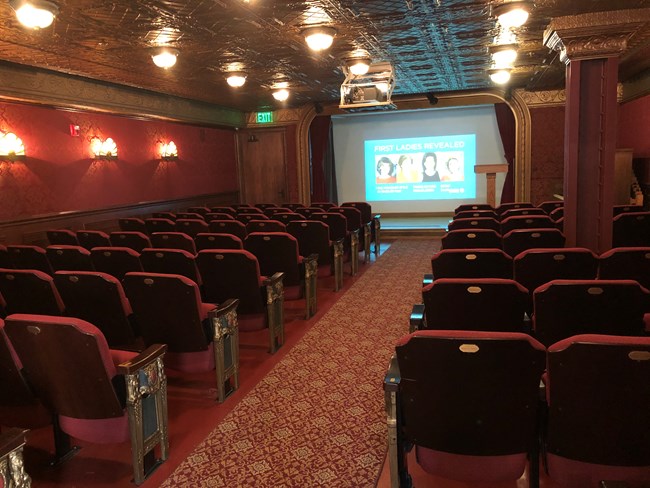 Current Exhibits
Main Gallery
Defining Her Role: The First Lady's First 100 Days
The first 100 days is a key bench mark for all presidential administrations, and no less so for the Office of the First Lady. After the inauguration day celebration, it is time to promptly set the agenda for a totally new way of life under the media's microscope. There is staff to hire for initiatives the first lady wants to pursue. There are children, pets and other family to help settle into the White House. There are continually rotating schedules of official events to plan and prepare. Then there are the everyday and unexpected personal matters to attend to that don't stop even though the first lady's address does. The exhilaration of the highs and the exhaustion of the lows are examined in the new exhibit, Defining Her Role: The First Lady's First 100 Days.

Filmore Library Gallery
I Thee Wed: The Marriage and Influence of Ida & William McKinley
This year is the 150th wedding anniversary of the Saxton-McKinley wedding. The city of Canton was abuzz with excitement as Miss Ida Saxton was united in holy matrimony to Major William McKinley on January 25, 1871. The nuptials took place by candlelight within the newly built sanctuary of the First Presbyterian Church. With a room filled to capacity with well-wishers and a merry reception afterwards, family and friends followed the happy couple to the train station to witness the beginning of the power-couple's life together. The exhibit panels tell the details of I Thee Wed: The Marriage and Influence of Ida & William McKinley.

Lower Level Gallery
Sew Chic: The Life of Ann Cole Lowe
Ann Lowe spent her life as a hidden fashion icon for the wealthy and elite women of high society. Her beautiful gowns were admired and sought after, yet she rarely received credit for her artistry. Best known for making the wedding gown of Jacqueline Bouvier Kennedy, her passion was the creation of beautiful clothing. Lowe's personal life was a continual struggle as an African-American woman, but she continued to sew even while she was facing blindness. The exhibit includes a biography on Ann Lowe's life, fine points on her work and sewing techniques, and includes examples of her work of the Evyan perfume miniature first lady gowns from the National First Ladies' Library's collection.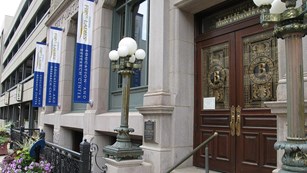 City National Bank
Learn about the building that now houses the Education Center.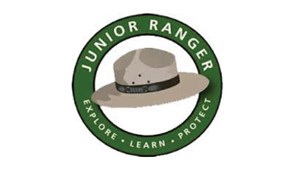 Junior Ranger
Complete a Junior Ranger book to earn your Jr. Ranger Badge!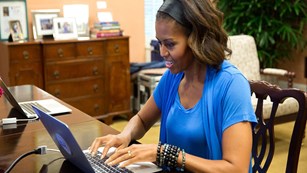 New Virtual Programs
We offer a variety of virtual programs for both school and scout groups!
Last updated: August 3, 2021