Hunting
Waterfowl Hunting Permits

Fire Island National Seashore provides limited opportunities for waterfowl hunting. You must first obtain a hunting permit from the Seashore.
Permits are issued at the Wilderness Visitor Center and, when staff is available, at the West District Checkpoint, 631-661-2556.
Please remember to bring:
Valid New York State hunting license
Signed federal "duck stamp" (for hunters age 16 and older)
Valid state driving license
Confirmation number from the Migratory Bird Harvest Information Program (HIP)
Fire Island National Seashore Hunting Regulations
Hunting is limited to waterfowl only.
Hunting or carrying of loaded firearms is prohibited within areas posted as closed areas or safety zones (see map)
Walking access to eastern hunting areas should be by sand road (Burma Road).
All waterfowl hunting is north of the Burma Road only.
Any person may be ejected from the area for disorderly conduct, intoxication or any other conduct which endangers the public welfare.
No target or promiscuous shooting is permitted within the cooperative area.
No rifles or bows shall be carried or used in the area.
Obey all posted regulatory signs.
Use designated dune crossings only.
The following acts are prohibited: hunting camps; building fires; damaging, cutting or breaking trees or shrubs.
Upon request of the Fire Island National Seashore, U.S. Fish and Wildlife Service or New York Department of Environmental Conservation staff, all persons are required to show their bag.
All applicable provisions of New York conservation law and federal regulations shall be in effect.
Non-toxic shot is required for waterfowl hunting. Possession or use of shells loaded with shot other than steel, bismuth/tin, tungsten/iron or other shot approved by the U.S. Fish and Wildlife Service is strictly prohibited when hunting waterfowl.
A shotgun with the capability of holding more than three shells is required to be plugged with a one piece filler which is incapable of removal without disassembling the gun.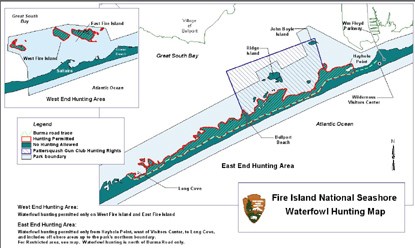 Fire Island National Seashore's East End Hunting Area is adjacent to the park's Otis Pike Fire Island High Dune Wilderness. A sportsman's recreational vehicle driving permit may be used to access the beach on the Atlantic Ocean side of wilderness area from September 15 through December 31, but access to the bay side of the island is by foot or shallow-draft vessel only. Waterfowl hunting is permitted only from Hayhole Point (west of the Wilderness Visitor Center and boardwalk) to Long Cove (east of Watch Hill). No hunting is allowed from the small bay islands north of Fire Island in this area. A portion of the Pattersquash Gun Club's hunting rights are within the boundaries of Fire Island National Seashore.
Fire Island's West End Hunting Area is restricted to shoreline waterfowl hunting from East Fire Island, West Fire Island, and Sexton Island.
Both areas are Carry-In/Carry-Out, so please plan to "Leave No Trace."
Last updated: December 1, 2021