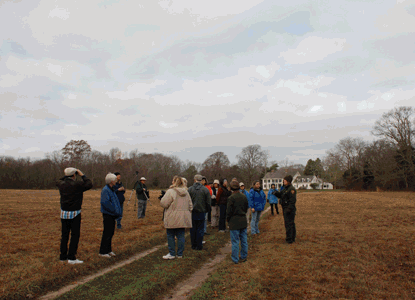 News Release Date:
January 17, 2012
Contact: Paula Valentine, 631-687-4759
While many National Park Service facilities are battened down for the winter, the park and its partners have scheduled a variety of guided walks and other special programs for this January, February and March, 2012. There are several new programs this year, including a series of lectures inside the new Fresnel Lens Building at the Fire Island Lighthouse.
Most programs are free or include a nominal program fee. Each provides an opportunity to explore and enjoy your public lands.
The Fire Island Lighthouse, open all year, is providing a new series of lectures inside its recently-constructed Fresnel Lens Building. Learn about the history of Fire Island and other nautical subjects during these brief programs, offered at 2 p.m. on January 29, February 12 and 26, and March 11 and 25. "We had a great turn-out for our first winter lecture," said Dave Griese, administrator for the Fire Island Lighthouse Preservation Society which operates this facility under a cooperating association agreement with the National Park Service. Some of the standard special programs and tours will continue to be offered, such as the evening tower tours on Saturday, February 12 ("Lighthouses are for Lovers," $40/couple) and on Saturday, February 18 ($20/person). During Presidents Week, February 20-24, a daily children's activity will be offered at 11:00 a.m. The Fire Island Lighthouse Preservation Society charges an interpretive program fee for these programs and for lighthouse tower tours. For reservations or more information about the Fire Island Lighthouse, call 631-661-4876.
Special programs at the Fire Island Lighthouse on Saturday, January 28, include a ranger-guided beach walk, Seashells by the Seashore, from 11:00 a.m. - 12:30 p.m., followed by a presentation on Fire Island's Dynamic Shoreline: Coastal Erosion Issues and Research at 1:00 p.m. in the new Fresnel Lens Building. Parking is available at Robert Moses State Park, Field 5, and both programs are free, so bundle up, pack a lunch and enjoy a healthy, educational winter day at the beach.
The 613-acre William Floyd Estate, located at 245 Park Drive in Mastic Beach, is closed over the winter, but its grounds will be open for several special weekend tours. Weather permitting, naturalist MaryLaura Lamont is conducting The Old Mastic Way to the Bay, a ranger-guided tour of the historic fields, woods, and trails to the salt marsh and bay on Saturday, January 21 and February 25. Her Old Mastic Winter Bird Walk will be held on Sunday, January 22. Additional walks will be offered on Sunday, February 5, and Saturday, February 11, with more opportunities to explore the Estate in March. "We always come across something of interest during these walks at the William Floyd Estate," stated Lamont, "We may see evidence of the deer rut, or signs of other winter wildlife. We learn to recognize a few plants in the winter without their leaves." MaryLaura's Great Backyard Bird Walk is scheduled for Saturday, February 18 (rain/snow date: Sunday, February 19). Most of these free programs start at 9:00 a.m. and involve a 2- to 3-mile roundtrip hike. Call the William Floyd Estate at 631-399-2030 for more information.
Fire Island National Seashore's Wilderness Visitor Center is open daily over the winter, weather permitting. Ranger-guided walks on the beach include Wintertime Beach Botany on Sunday, January 29; a Wilderness Hike for Nature Lovers on Sunday, February 12, and an Ocean to Bay hike on Sunday, February 26, 9:00 a.m. to noon. Special children's programs in February focus on winter habitats and wildlife. Seaside Stories and Crafts: Where do Animals Live? will be offered on Saturday, February 11, at noon. The Junior Ranger Workshop: Discovering Habitats is scheduled for Saturday, February 25 at noon. Each of these programs is free. Park at Smith Point County Park, and meet at the Wilderness Visitor Center. Call 631-281-3010 for more information.
For all outdoor programs, pack a snack, dress for the weather and wear sturdy shoes. Bring a sense of adventure and explore the seashore in all its seasons!
See complete Calendar of Events and Activities or download a copy of Fire Island National Seashore's monthly programs.