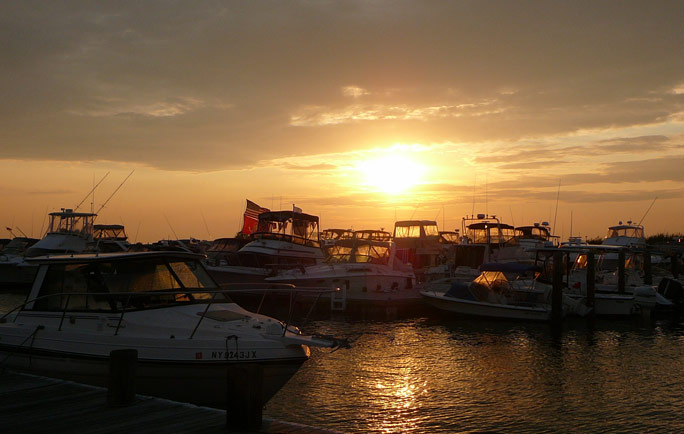 News Release Date:
May 18, 2015
Contact: James Dunphy, 631-687-4756
Contact: Kathy Krause, 631-687-4772
Fire Island, New York –Fire Island National Seashore's Watch Hill marina and visitor facilities are now open. This season the Watch Hill area offers improved water-based access and special programming planned to celebrate the Seashore's 50th anniversary.
"The dredging completed in the Watch Hill channel will provide safe passage for ferries, emergency services, and private boaters for many summers to come" said Fire Island National Seashore Facility Manager James Dunphy. Portions of the navigation channel to Watch Hill –accessible by passenger ferry, private boat, and foot only –were dredged this past winter to maintain safe, public access to marina and docking facilities.
More than 29,000 cubic yards of material were removed from the channel despite winter weather delays. The dredge project, funded by Hurricane Sandy appropriations, began in December 2014 and was stalled until mid-March due to severe winter weather and extensive ice in the Great South Bay. The New York State Department of Environmental Conservation granted a permit extension to H&L Contracting in January 2015 to extend the operation past the initial January 15, 2015 deadline and work was completed on March 31, 2015. The remainder of the project will be completed between October 1, 2015 and January 15, 2016.
With improved water-based access, Fire Island National Seashore's Chief of Interpretation and Education, Kathy Krause, says she hopes "more people can visit this little known gem and take advantage of the range of visitor services available." Watch Hill offers a 183-slip marina, visitor center, family campground, convenience store, snack bar, full-service restaurant, self-guiding nature trail, picnic area, lifeguarded beach (Memorial Day through Labor Day), and restrooms.
A variety of ranger-led programs are scheduled throughout the summer at Watch Hill. "Fire Island Fridays at the Dune Station" will be evening presentations on topics such as nature photography, powerful storms, summer stars, maritime history, and nocturnal wildlife. "Junior Ranger Beach Naturalist" programs geared for ages 8-12 will be offered every Saturday afternoon, and all family members can enjoy getting their feet wet while learning about life in the Great South Bay during the "Catch of the Bay" marine seining program on Sundays. Free canoe tours through the island's most extensive salt marsh will also be offered Saturdays and Sundays starting June 27.
There will be special activities on tap for Labor Day Weekend as part of the finale for Fire Island National Seashore's year-long anniversary celebration, including a special evening canoe tour, presentations, and hands-on discovery activities exploring the history and future of Fire Island.
For more information and hours of operation, please visit our Watch Hill and Hours of Operation web pages.