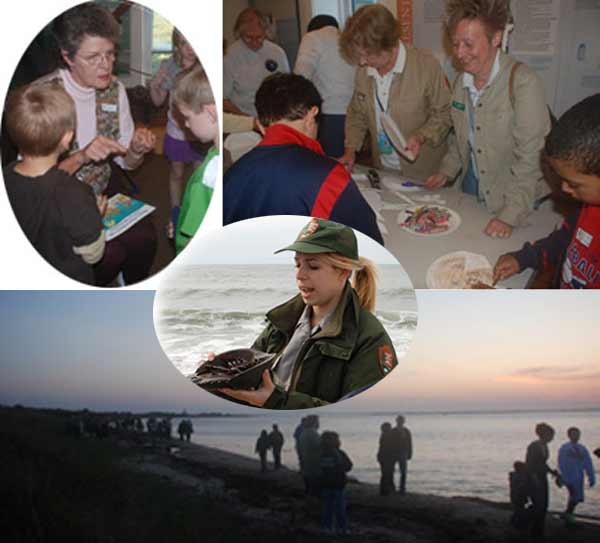 News Release Date:
May 13, 2011
Each May and June, during evening high tides near the full and new moon, a quiet ancient ritual occurs along many shallow East Coast bay beaches: the spawning of the Atlantic horseshoe crab. Special evening programs at Fire Island National Seashore provide an opportunity to learn about horseshoe crabs and perhaps even observe this annual event along the Great South Bay of Long Island. Watch for tagged horseshoe crabs, and help contribute to a greater understanding of the population dynamics of this important marine species.
On Saturday, May 14 and Friday, June 17, from 7:00 – 9:00 p.m., join a National Park Service ranger at the Wilderness Visitor Center for "Living Fossils: The Horseshoe Crab," a discussion on many aspects of this fascinating ancient creature. After the talk, walk over sand and along the bay to explore the horseshoe crab's habitat. Bring a flashlight, wear comfortable shoes and dress for outdoor weather (usually cooler along the water). Program is free. Fire Island National Seashore's Wilderness Visitor Center is located at the southernmost end of William Floyd Parkway, with parking available at nearby Smith Point County Park. Call 631-281-3010 for information.
On Saturday, June 11, from 7:00 – 9:00 p.m. during the Fire Island Lighthouse Horseshoe Crab Program, you can join a guided walk along the bay as the sun sets and the moon rises. Children may create special crafts, and tower tours will be available at the regular fee. The Fire Island Lighthouse Preservation Society charges a small program fee ($3/person) to cover the cost of materials. Reservations are required. Call 631-661-4876 for more information, reservations.
Fire Island's sandy bay beaches have long been a preferred site for the helmet-shaped female horseshoe crab to lay millions of bluish-green eggs, which are fertilized by one or more of the smaller male horseshoe crabs. Horseshoe crab eggs provide food for a number of migratory birds and other sea life. Adult horseshoe crabs have historically been used for fertilizer and bait and other economic uses, but the harvest of these arthropods is no longer permitted within the boundaries of Fire Island National Seashore.
# # #
Learn more information about horseshoe crabs.
Understanding Horseshoe Crab Population Dynamics in New York and New Jersey National Parks