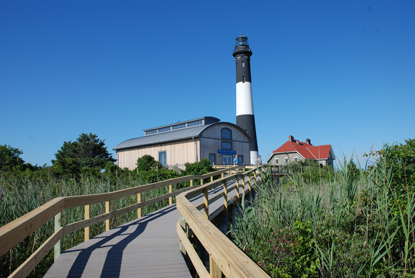 News Release Date:
July 15, 2011
Contact: Paula Valentine, 631-687-4759
The original Fresnel lens of the Fire Island Light Station was put into service on November 1, 1858. This was the first light visible to many ships crossing the Atlantic on their way into New York Harbor. It served as a vital aid to navigation, as part of a national initiative to improve maritime safety in the mid-nineteenth century. This Fresnel lens was removed from the Fire Island Lighthouse in 1933, and was later displayed in the Franklin Institute in Philadelphia until 2000.
After many years of planning and fundraising, and a full year of construction, this impressive original artifact will finally be on display "back home," in a newly constructed display building beside the Fire Island Lighthouse.
On Friday, July 22, at 5:30 p.m., a donor recognition ceremony and ribbon cutting will take place for this new building. A shuttle bus will provide free transportation between the parking area at Robert Moses State Park Field 5. 
Starting on Saturday, July 23, the doors to the new facility will be open during regular hours for the Fire Island Lighthouse, which is operated by the Fire Island Lighthouse Preservation Society. There is no charge to enter the Fresnel Lens Building, but an interpretive fee is collected for lighthouse tower tours.
The Fire Island Lighthouse is open daily, year-round. For more information, call the Fire Island Lighthouse at 631-661-4876.