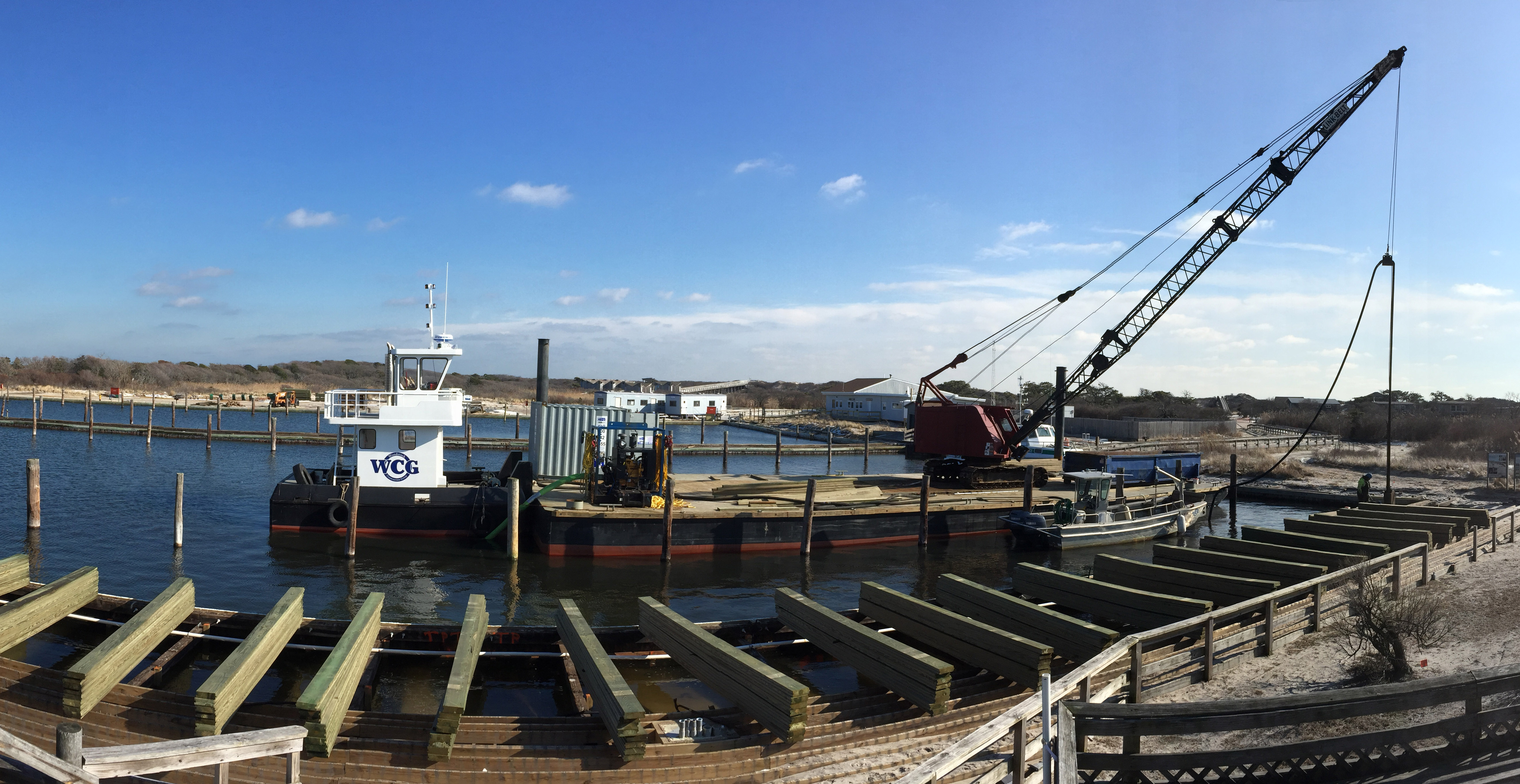 News Release Date:
March 16, 2017
Contact: Elizabeth Rogers
Contact: James Dunphy
A major construction project is underway at the Watch Hill marina on Fire Island National Seashore. In September, 2016, Woodstock Construction LTD began work on the multimillion dollar project to replace electrical and lighting systems, and adjacent bulkhead and boardwalk.
"We are pleased with the progress of the project," said seashore Facility Manager Jim Dunphy, "and look forward to opening the marina once the work is done." Crews removed the deck and have begun to install timber sheet piling and securing the bulkhead wall. The project is slated for completion by late summer 2017.
The project ensures the marina, damaged in 2012 by Hurricane Sandy, is more resilient to future storms. Plans call for a new elevated electrical building to be constructed and for the existing conduit, conductors, and pedestals to be replaced. A new bulkhead will be built and composite lumber will be installed over a strengthened substructure on adjacent boardwalks.
During construction, the Watch Hill Marina will be closed to ferry service and private boaters. The visitor center, bathrooms, lifeguarded beach, and tent campground will be closed until the marina reopens. Updates will be posted at: https://www.nps.gov/fiis/planyourvisit/watchhill.htm.
Since Hurricane Sandy struck Fire Island National Seashore in October, 2012, five recovery projects have been completed in partnership with the FHWA at Fire Island National Seashore. The Watch Hill Marina project is the sixth such project and is funded in part by FHWA and NPS. The FHWA secured funds through Emergency Relief for Federally Owned Lands and the NPS obligated funds through the Hurricane Sandy Relief Supplemental Aid and recreation fees.
Watch Hill is located on the western edge of the Otis Pike Fire Island High Dune Wilderness, directly across the Great South Bay from Patchogue on Long Island. The Watch Hill Marina opened in 1967 and has 182 slips with 120 and 208 volt service, which accommodate boats with a draft to 5 feet and 8- to 17- foot beam. Of the 182 slips, there are 23 which accommodate 15- to 18- foot beams and offer 208 volt service.