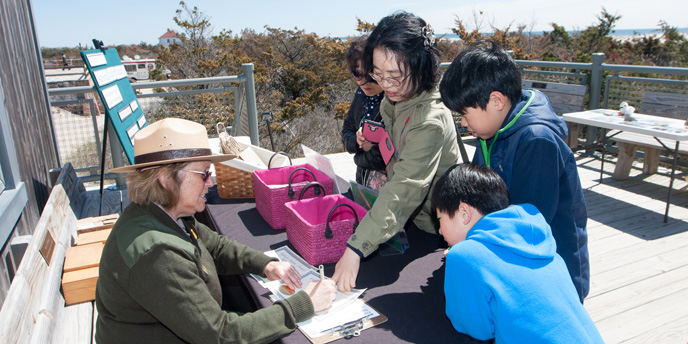 News Release Date:
April 4, 2016
Contact: Elizabeth Rogers, 631-687-4766
Contact: Josh Reyes, 516-802-7543
Patchogue, NY - Celebrate the National Park Service's 100th anniversary and "Find Your Park" on Long Island during National Park Week, April 16 through 24. Fire Island National Seashore and Sagamore Hill National Historic Site will host special events and programs throughout the week and invite you to explore the national parks in your backyard.
"You don't have to go far to experience national parks," said Sagamore Hill National Historic Site Superintendent Kelly Fuhrman. "Just a short drive," said Fuhrman "and you can climb to the top of the Fire Island Lighthouse, tour the home of Theodore Roosevelt our 26th President, discover the Sagamore Hill Nature Trail, or explore New York State's only federally designated wilderness."
On Saturday, April 16 children, ages 7 and up, and their caregivers are invited to participate in a day of fun-filled learning and discovery during the Seashore's "Find Your Park" Junior Ranger Day event taking place at the Fire Island Lighthouse. At the William Floyd Estate, a unit of Fire Island National Seashore located in Mastic Beach on Long Island, park ranger-led programs will explore the "Biology of Bluebirds" on April 16, and the fields and forests of the Estate on the "Great Earth Day Nature Walk" on April 23. The Seashore will close National Park Week with its 10th Biennial Science Conference on April 22 and 23, featuring presentations on topics ranging from coastal change to marine and terrestrial wildlife.
Sagamore Hill National Historic Site will be fee-free in celebration of National Park Week and the National Park Service Centennial. Viewing Theodore Roosevelt's home will be available on the first floor only from 10:00 am to 4:00 pm, with guides posted in the home to provide an informative experience. Photography and video recording is not allowed inside the house. Bags, packs, and strollers are not permitted in the historical home during the tours - please plan accordingly. Advanced reservations will not be taken during National Park Week.
On Saturday, April 16 Sagamore Hill will be hosting a book reading of Simply Father by author Toby Selda at 12:30 pm in the Old Orchard Museum. Also on April 16, Sagamore Hill will have a special Centennial Junior Ranger activity and badge available to the first two hundred children to complete the activity.
National Park Week is a great opportunity to explore the countless ways to #FindYourPark. Launched in March, 2015,
Find You Park/Encuentra Tu Parque
, is a public awareness and education movement to inspire people from all backgrounds to connect with, celebrate, and support America's national parks.
Celebrating the
National Park Service Centennial
and setting the stage for the Service's next 100 years, #FindYourPark invites people to discover and share their own unique connections to our nation's landscapes, vibrant culture, and rich history. Visit
FindYourPark.com
to learn more about National Park Week and other events taking place throughout the year. For information about Fire Island National Seashore visit
nps.gov/FIIS
and for information about Sagamore Hill National Historic Site visit
nps.gov/SAHI
.