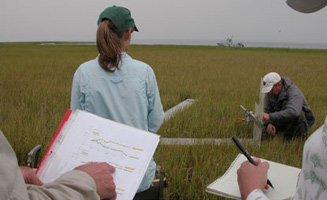 News Release Date:
April 4, 2012
Contact: Paula Valentine, 631-687-4759
Contact: Registration:, 631-687-5030
Patchogue, New York - Fire Island National Seashore is hosting its 8th Biennial Science Conference this year during National Park Week. The two-day event includes a day of presentations and updates on Friday, April 27 from 9:00 a.m. to 4:30 p.m. at the Patchogue-Watch Hill Ferry Terminal, with a guided field trip to Sailors Haven and Watch Hill on Saturday, April 28, from 9:00 a.m. to 2:00 p.m. The lectures are free, but a $5/person co-pay will be collected to help defray the cost of ferry transportation for Saturday's program. Registration is required in advance.
The stage will be set for the two-day conference with an illustrated program by Dr. Robert F. Sayer, a life-long Fire Island summer resident and author of a newly completed book, Fire Island--An Environmental History. Following Dr. Sayre's keynote address on Friday morning, various program managers and researchers conducting work on Fire Island and at the William Floyd Estate will provide 20-minute illustrated updates on their current work.
The Friday morning programs focus on water quality and algal blooms, saltmarsh habitats and bird species, red foxes, box turtles, and horseshoe crabs. For the afternoon of April 27, presentations are geared toward coastal geomorphology and park management. Some of these researchers, like Dr. Norbert Psuty, professor emeritus at Rutgers University Institute of Marine and Coastal Sciences, have spent more than 30 years studying the shoreline of Fire Island. The work of other scientists and researchers helps contribute to a better understanding of the dynamic barrier island resources of Fire Island. All programs are geared toward a general public audience.

On Saturday, April 28, a guided field trip from Patchogue to Sailors Haven and Watch Hill will provide participants the opportunity to see four research projects in progress, and get a rare early peek at these Fire Island facilities before the regular visitor season and ferry service has begun.

Three of Fire Island National Seashore's park partners (Fire Island Lighthouse Preservation Society, Friends of Watch Hill, and Friends of Fire Island National Seashore) are supporting the Biennial Science Conference by providing refreshments both days. A $5/person co-pay helps defray the cost of the ferry trip to Fire Island on April 28.

For more information, visit the park's web page at www.nps.gov/fiis/scienceconference.htm or see this year's agenda:
2012 Fire Island National Seashore Science Conference Agenda
Reservations must be made by April 22, 2012.

Please call 631-687-5030 (leave your name and contact information) or send your contact information via e-mail: e-mail us.
# # #