Date:
June 9, 2009
Contact:
Paula Valentine
, 631-687-4759
Contact:
Irene Rosen
, 631-687-4765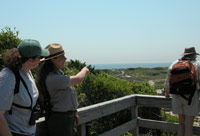 It's time to make your reservations for one of the annual Fire Island Treks. This year's programs include a one-day, noon-to-9:00 p.m. Twilight Trek on Thursday, June 25. Hikers on this 15-mile trek will leave from the Wilderness Visitor Center at noon. The first half of the program entails a 7-mile hike on the beach in front of the Fire Island Wilderness, followed by a rest stop at the park's largest developed area, Watch Hill. The rest of the trip includes a patchwork of boardwalk and beach hiking, with stops by park facilities at Barrett Beach/Talisman and Sailors Haven/Sunken Forest, and an occasional stroll along eastern Fire Island communities' boardwalks. Trekkers make their escape from Fire Island by way of the late ferry from Cherry Grove to Sayville. There is no fee for this program, but participants must provide and pay for their own transportation and parking, and bring a bag lunch and water for along the way.
The traditional Fire Island Trek is scheduled for Wednesday through Friday, September 9 -11, 2009, and coincides with the park's 45th Anniversary. The three-day 20-mile trek also leaves from the Wilderness Visitor Center, and finishes up at the top of the Fire Island Lighthouse. Limited logistical support is available, but participants must provide for their own transportation and parking, and pay for their meals along the way. Overnight accommodations are rustic, so trekkers must also provide their own sleeping bags. A $100 program fee is charged for the 3-day Fire Island Trek.
For more information about either program, visit the park's web page at www.nps.gov/fiis/fire-island-trek.htm or call Fire Island National Seashore's Office of Interpretation at 631-687-4765.