Beach and Wetland Birds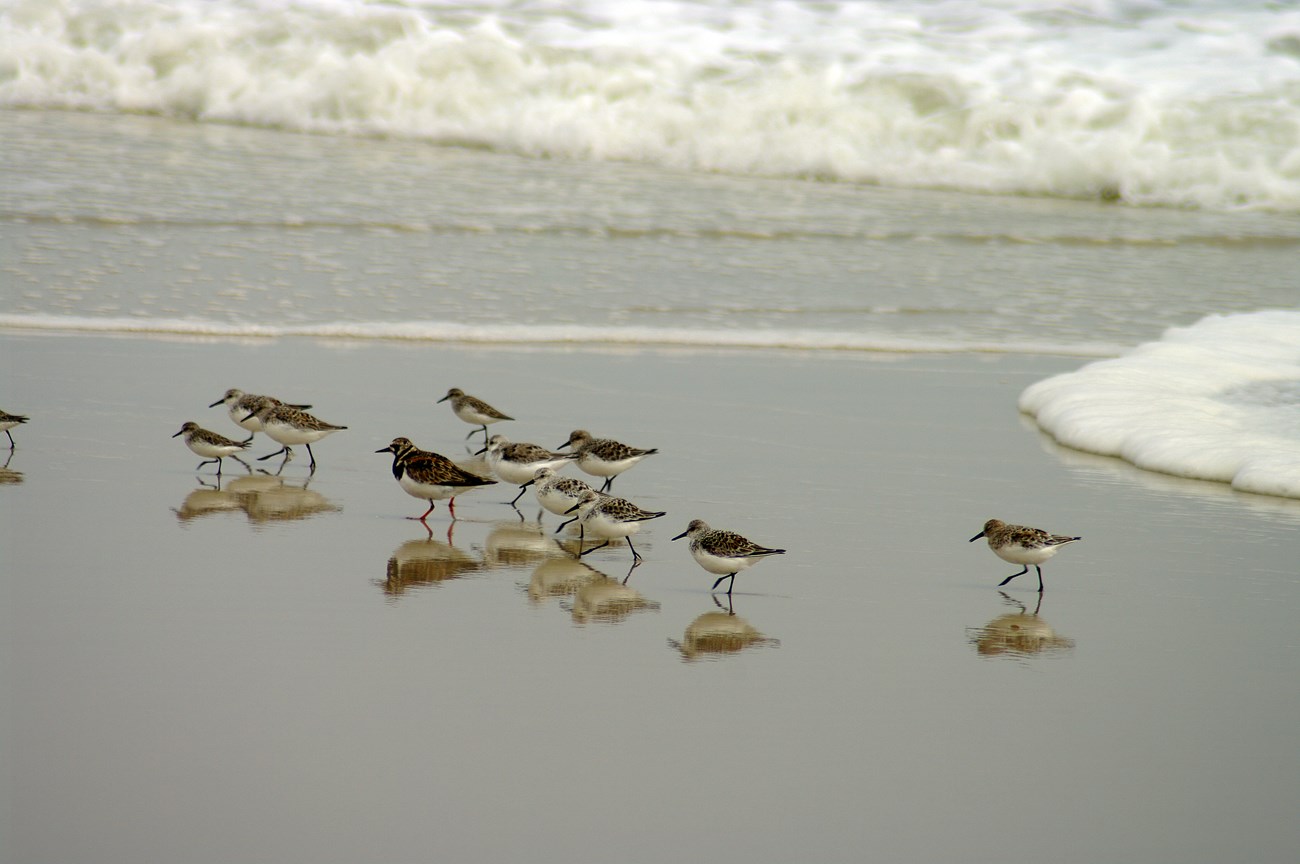 Discover Beach and Wetland Birds

The rise and fall of the tides shapes the shoreline of the barrier island and bay islands over time, resulting in a patchwork of sand flat and salt marsh habitat that attracts nesting, resting, and foraging shorebirds.

Birds in the sandpiper and plover families come in a variety of shapes and sizes, and can be found in a range of wetland habitats. As a group, these birds provide endless identification challenges for novice and expert birders alike. But ever so slight differences in color, size, and bill and body shape can help us tell one shorebird from another.

Sanderlings are common shorebirds on Fire Island's ocean beaches. These mid-sized sandpipers can be seen in small flocks, scurrying to and fro by the waves. Shorebird flocks may occasionally also include dunlin, ruddy turnstones, or semipalmated sandpipers – shorebirds usually found in greater abundance on bay shorelines and marshes.

While not technically in the shorebird family, hundreds of colonial waterbirds including terns and gulls nest on sparsely vegetated bay beaches and bay islands. The common tern nests in large colonies and prey on small fish in open water. In 2014 National Park Service (NPS) staff counted more than 750 nesting terns as part of New York State's Annual Long Island Colonial Waterbird Survey.

Nesting shorebirds also visit bay side sand flats during this time. American oystercatchers and the federally threatened and New York State endangered piping plover can be found searching the sand for small worms, crustaceans, and other invertebrates.
Migration
Shorebirds are superlative migrants, some of the world's fastest- and farthest- flying birds. Many will stop here on Fire Island to rest and refuel as they journey from their Arctic breeding grounds to their wintering grounds in Central and South America.

Many of these migrating shorebirds nest in more northerly latitudes but some nest closer to home. The piping plover is one type of shorebird that breeds here, and on other sandy shorelines from North Carolina to Newfoundland.

Species such as least tern and piping plover travel a relatively short distance to nest here in this region, other shoreline-dependent birds journey thousands of miles to nest in places like the high Arctic. Barrier islands provide critical stopover habitat for such long-distance migrants including the semipalmated sandpiper and the recently-listed red knot. Learn more about how the National Park Service works to monitor and protect spawning horseshoe crabs as their eggs are a primary food source of species like red knot.


While northbound shorebirds migrate through our area in springtime, the more pronounced migration is the southbound in summer and early fall. The first wave of southbound shorebird migrants can be observed foraging along Fire Island's ocean and bay shorelines as early as July. Learn more about birdwatching on Fire Island.
Last updated: May 7, 2018