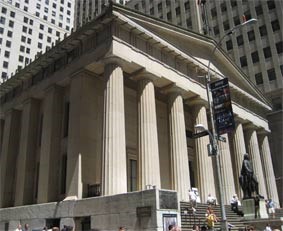 National Parks of New York Harbor Video
Explore the National Parks of New York Harbor with the Rangers who know them best. Discover how significant historic places, like Federal Hall National Memorial, illuminate the rich history of New York City and its harbor.
Federal Hall National Memorial Video
Our nation's first Capitol—in the heart of the Financial District.
Coast Guard Founding Celebration at Federal Hal
View the C-Span video of the Coast Guard's 225th anniversary celebration at Federal Hall on August 4, 2015.
Alexander Hamilton Scholars Visit FEHA on July 17, 2018.