The Trial of John Peter Zenger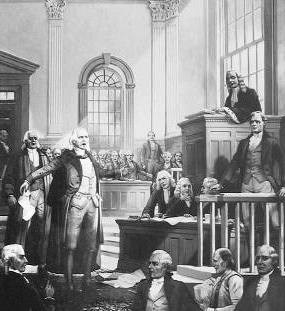 On April 16th, 1735, the New York Supreme Court met in the second floor courtroom of New York City Hall. After attorneys James Alexander and William Smith, who were also Popular Party members, had attempted to represent John Peter Zenger at his trial, the Court decided to disbar both of them. The court did this because it was known that no attorney in the Province of New York would be as bold in the defense of John Peter Zenger as Alexander and Smith. A man named John Chambers was then assigned as a counsel for Zenger and entered a plea of not guilty. Chambers was a young man with little law experience in law. He was also complementary of Governor William Cosby's administration.
Alexander and Smith searched for the most experienced trial attorney in the colonies and selected a man by the name Andrew Hamilton. A resident of Philadelphia, Pennsylvania, he was no relation to Alexander Hamilton and was born in Scotland in 1656. Hamilton was the Attorney General of Pennsylvania from 1717 through 1726 and became Recorder of Philadelphia in 1727. Later, he would go on to become the Speaker of the Assembly from 1729 to 1739.
After John Peter Zenger had languished in jail for an entire year, his trial began on August 4, 1735 inside a small court room in the New York City Hall. The Attorney General opened the case, saying that the defendant had pleaded not guilty to printing and publishing a false, scandalous, and seditious libel against Governor Cosby. Chief Justice DeLancey then said to the jury, "The laws in my opinion are very clear; they cannot be admitted to justify a libel." When Andrew Hamilton spoke, he was made famous for arguing that "the truth is a defense against libel." When the jury withdrew to deliberate, DeLancey was drawn into an argument with Hamilton, perhaps reflecting that Hamilton's argument had some merit. When the jury returned, the Clerk asked whether they agreed on a verdict and whether John Peter Zenger was guilty of printing and publishing libels. The jury's foreman, Thomas Hunt, replied, "Yes, the verdict is 'Not Guilty'."
The monumental trial of John Peter Zenger took place on the historic site where Federal Hall National Memorial now stands. The case inspired the entire city and helped to further the cause for freedom that led to revolution, forty years later. The John Peter Zenger trial would lead the way for the First Amendment to the Constitution of the United States of America, which reads, "Congress shall make no law respecting an establishment of religion, or prohibiting the free exercise thereof; or abridging the freedom of speech, or of the press; or the right of the people peaceably to assemble, and to petition the Government for a redress of grievances."
Last updated: February 26, 2015