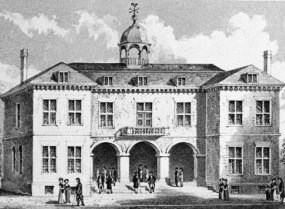 26 Wall Street was the site of New York City's 18th-century City Hall. Here John Peter Zenger was jailed, tried, and acquitted of libel for exposing government corruption in his newspaper - an early victory for freedom of the press. City Hall hosted the Stamp Act Congress, which assembled in October 1765 to protest "taxation without representation." After the American Revolution, the Continental Congress met at City Hall and, in 1787, adopted the Northwest Ordinance, establishing procedures for creating new states.
When the Constitution was ratified in 1788, New York remained the national capital. Pierre L'Enfant was commissioned to remodel the City Hall for the new federal government. The First Congress met in the now Federal Hall and wrote the Bill of Rights. George Washington was inaugurated here as the country's first President on April 30, 1789. When the capital moved to Philadelphia in 1790, the building again housed city government until 1812, when Federal Hall was demolished.
The current structure on the site was built as a Customs House, opening in 1842. In 1862, Customs moved to 55 Wall Street, and the building became the US Sub-Treasury. Millions of dollars of gold and silver were kept in the basement vaults, until the Federal Reserve Bank replaced the Sub-Treasury system in 1920.