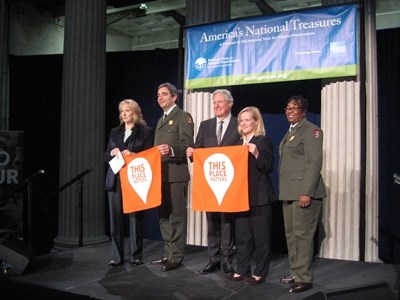 On December 2, 2015, a press conference was held in the lobby at Federal Hall National Monument for an announcement signaling a welcome change to the 173 year old building, on the site where George Washington took his oath of office as our first president on April 30, 1789.
Approximately 120 spectators were present for the statement that Federal Hall has been designated a National Treasure by the National Trust for Historic Preservation, as well as the American Express Foundation's $300,000 grant to begin the restoration of the building's façade. This project, in partnership with the National Park Service and the New York Harbor Conservancy, is set to begin in the spring of 2016.
The featured speakers at this press conference, in order, were: Joshua Laird, Commissioner of the National Parks of New York Harbor, Oskar Eustis, Artistic Director of the Broadway play, 'Hamilton', Stephanie Meeks, President and CEO of the National Trust for Historic Preservation, Tim McClimon, President of the American Express Foundation, and Marie Salerno, President and Co-Founder of the New York Harbor Parks Conservancy.
This announcement heralded an elevated status of the park site whose history predates that of our nation, and has ushered improvements to the structure itself, which has been a central destination for a wide range of individuals for decades, from tourists visiting New York City, to local school groups, to the Wall Street lunch crowd. Through these improvements and others, the goal of improving visibility, marketing, and knowledge about Federal Hall and its unique architecture and history will be achieved.