Lobby > Exhibits > Why Geysers Erupt > Predicting Geysers > Grand Geyser
Predicting Geysers
GRAND GEYSER
Grand Geyser, the tallest predictable geyser in the world, erupts with powerful bursts, reaching between 150-200 feet (45-61 m) high. Its interval ranges from 6 to 15 hours, although recently, it has averaged 7-8 hours. Eruptions last between 9-12 minutes. About 50 percent of the time, the geyser will stop erupting after 8 or 9 minutes and then resume activity after a brief pause. Grand frequently has between two to four bursts and often the subsequent bursts are taller than the first.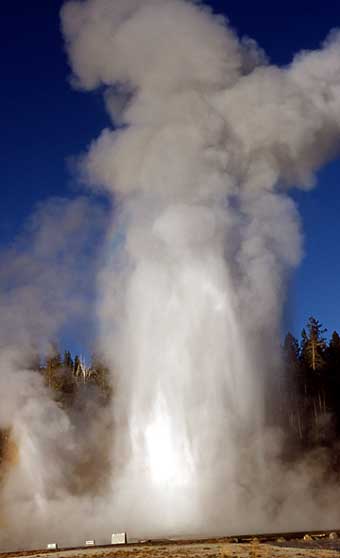 Grand Geyser is connected to many hydrothermal features, most noticeably Vent and Turban Geysers. Vent and Turban usually erupt nearly in sync with the start of a Grand eruption and continue to erupt for about an hour after Grand finishes.
Vent Geyser will not erupt again until the next time Grand erupts. Between Grand Geyser's eruptions, Turban Geyser erupts about every 20 minutes. These are small eruptions that are about five minutes in length.
Grand's pool empties after an eruption, slowly refilling over the next few hours. After about five hours, the water in Grand's pool noticeably rises and falls in 20-minute cycles that correspond to the eruptions of Turban Geyser. Grand Geyser will usually erupt just prior to or within a minute of a Turban eruption.

Next | 1 > 2 > 3 > 4 > 5 > 6 > 7 > 8