Lobby > Exhibits > Hot Spring Ecology > Predator-Prey Interactions
A Unique Habitat
PREDATOR-PREY INTERACTIONS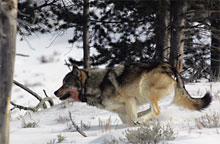 Predator-prey interactions often take place in areas close to, though not directly affected by, hydrothermal areas—especially during the winter.
Aware that ungulates (hoofed animals such as elk and bison) are attracted to hydrothermal areas for food and warmth, predators know where to hunt.
Also, the areas bordering hydrothermal zones are often natural traps. Ungulates can only run so far before they reach the end of the thermal area. Then, suddenly, they find themselves confronted with deep snow, downed timber, a river, or other obstacle, making it difficult to move quickly. On the other hand, if they hesitate at the edge of the hydrothermal area, the predator gains on them. Once a prey animal is killed, its carcass becomes an important source of food for many animals, including scavengers.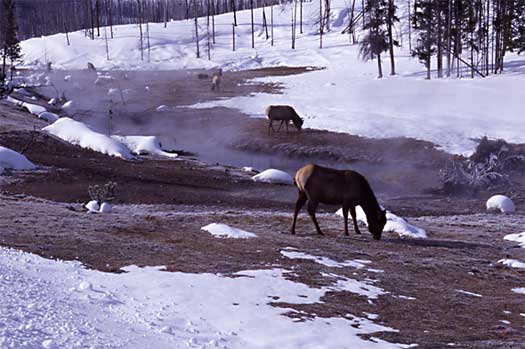 Next | 1 > 2 > 3 | Next Section: Wildlife