Lobby > Exhibits > Hot Spring Ecology > Microbes > Pushing the Limits
Microbes
PUSHING THE LIMITS
For many years scientists thought that no life form could survive in boiling water-in fact, boiling was used to purify water.
The discovery of Thermus aquaticus in Yellowstone's hot springs challenged this assumption, but it was the discovery of Sulfolobus acidocaldarius, a microbe that thrives in near-boiling water so acidic it can burn holes in clothing, that permanently stretched scientific perceptions of the limits of life. The search was on for life in other extreme environments!
239°F
(115°C)

X

203°F
(95°C)

X

X

163°F
(74°C)

X

X

X

144°F
(62°C)

X

X

X

X

140°F
(60°C)

X

X

X

X

X

122°F
(50°C)

X

X

X

X

X

X

X

X

113°F
(45°C)

X

X

X

X

X

X

X

X

X

100°F
(38°C)

X

X

X

X

X

X

X

X

X

X

Vascular
Plants

Cyano-
bacteria

Chemo-
sythentic
bacteria
Today scientists have discovered microbial life almost everywhere, including the Great Salt Lake where high levels of salt would be lethal for many organisms, the Arctic tundra, and in deep-sea hydrothermal vents where the water pressure is great enough to crush a human.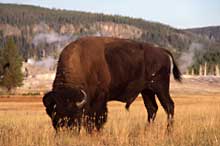 Some methane-producing archaea help cows, bison, elk, and sheep digest grass; each animal hosts more archaea than there are people on Earth!


The microorganisms in Yellowstone's hydrothermal environments may provide clues for scientists searching for life on other planets. If life began in the extreme conditions thought to have been present on ancient Earth, it may also have developed on other planets-and may still exist today!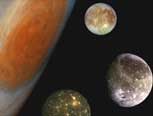 Some of Yellowstone's thermophiles metabolize inorganic chemicals. Such chemical energy sources, along with extensive groundwater systems or oceans beneath icy crusts, could provide habitats for life on Mars or on the moons of Jupiter-Ganymede, Europa, and Callisto.