Lobby > Exhibits > Hot Spring Ecology > Hydrothermal Influx in Fresh Water
Hydrothermal Influx
FLOWING TO THE FIREHOLE
You need to upgrade your Flash Player
Born in the wilderness of Yellowstone, the Firehole River is a normal mountain stream until it flows through three major geyser basins. By the time the river has finished its 30 mile (48 km) run, nearly a quarter of its water comes from hydrothermal influx and its temperature has increased by as much as 25°F (12°C).
The thermal additions change more than just the river's temperature. Water from hydrothermal features spends hundreds of years working its way through underground channels, eroding and carrying along bicarbonate, chloride, arsenate, and sodium from the rock through which it passes. From runoff in the Upper Geyser Basin alone, the Firehole River receives an estimated 68 tons of bicarbonate and chloride every single day.
In the 1950s, scientists attempted to estimate how much runoff entered the Firehole River from a single hydrothermal feature, Excelsior Geyser in Midway Geyser Basin. Their best guess was that between 3,000 to 4,000 gallons of thermal water poured into the Firehole River every minute of every day!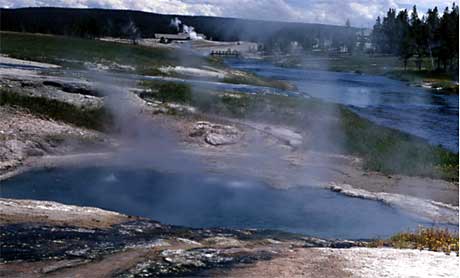 Next | 1 > 2 > 3 > 4 > 5 | Next Section: Microbes