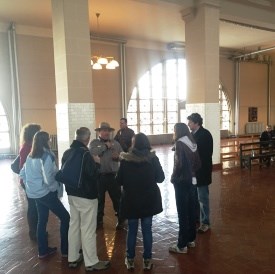 FREE Ranger-Guided Tours: Both National Park Service Rangers and dedicated Volunteers-in-Park lead walking tours throughout the museum. Tours are approximately 40 minutes in length, and chronicles island history during the busiest years of immigration of 1892 and 1924.
Expect to learn about the experiences that immigrants would have encountered during the 7-10 day voyage across the Atlantic Ocean, to the inspection process that would have taken place both in the baggage room and inside the Great Hall. The guided tour chronicles island history during its busiest years of operation. The immigrant experience at Ellis Island took place between 1892-1924, and through the both the baggage room and the Great Hall
and chronicle island history and explain what many immigrants experienced at the facility during its busiest years of operation. Tours depart from the information desk on the hour. The numbers of tours offered vary based upon daily staffing levels. Tickets are not required for walking tours.