Unrestored Ellis Island Buildings Opening for the First Time in 60 Years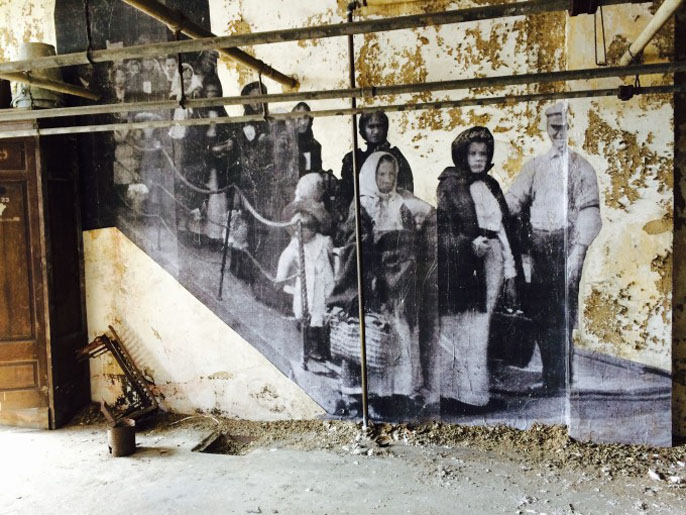 News Release Date:
September 25, 2014
Contact: Mindi Rambo, 212-668-2208
Ellis Island, NJ - Shuttered for 60 years, Ellis Island's South Side Hospital Complex will open to visitors for the first time on Wednesday, Oct. 1, revealing an overlooked story in immigration to the United States. Approximately one immigrant out of ten who arrived at Ellis Island received medical attention at this facility.
Tickets will be available for purchase through the national park's ferry concession, Statue Cruises, beginning September 25. The 90-minute tours will take place four times a day and will be limited to 10 people per tour, ages 13 and older. They will be offered on a reserved, scheduled basis by Save Ellis Island. Tickets are $25, and proceeds from the sales will go toward the continuing preservation and restoration of the complex.
In its day, the 29-building complex was the largest U.S. Public Health Service Institution in the United States. Ill and infirm immigrants were treated and cured within its walls before being allowed to enter the country. Approximately 1.2 million of the 12 million immigrants who passed through Ellis Island received medical treatment at what may have been the most modern, comprehensive hospital in the nation This facility included wards for obstetrics, mental health and contagious diseases. It had laundry facilities and even a morgue.
The nonprofit Save Ellis Island, Inc., in partnership with the National Park Service (NPS), has raised funds to stabilize and partially restore several of the hospital complex buildings.
Janis Calella, president of Save Ellis Island, said, "We've been working for many years to bring the public closer to this lesser-known side of Ellis Island's history. These regularly-scheduled tours will give visitors the chance to learn about a different facet of the early 20th-century immigrant experience, and we're looking forward to sharing it."
"Even though much of the hospital equipment is no longer here, these special buildings are able to speak volumes," said Superintendent John Piltzecker of Statue of Liberty National Monument and Ellis Island. "The National Park Service is pleased to work with Save Ellis Island in their efforts to bring visitors to the South Side to learn more about the island's unique story through this special tour program."
As part of the tour opening, an art exhibit, "Unframed –Ellis Island," by renowned artist JR will be on display throughout the hospital complex.The exhibit features life size historic photographs of Ellis Island immigrants installed on 22 interior walls. JR, the recipient of the prestigious TED Prize, is known throughout the world for his "Pervasive Art" exhibitions which are designed to raise questions.
"The Unframed Ellis Island project is about bringing alive the memory of Ellis Island, the entry point to America for millions of immigrants," said JR. "The presence of these people who have shaped the modern American identity can still be felt in the buildings. I am very grateful for the opportunity to interpret the stories of these people through my art."
"The artwork adds a whole new dimension to the tour as it offers a new way of thinking about the buildings," Calella explained. "The exhibit really strikes a chord as you can 'feel' the emotions of the people who stayed here so many years ago. We're currently planning a lecture series, other exhibits and new programs for the south side of the island to create an optimal visitor experience to encourage people to come back again and again."
About Save Ellis Island, Inc.
Save Ellis Island's mission is to preserve the historic hospital buildings on Ellis Island. Our goal is to encourage an understanding of immigration in a globalized world, a story that has always been a part of American history. Our vision is to engage the public in historic preservation by showcasing the rehabilitation and preservation of an American icon – Ellis Island.
About Statue of Liberty National Monument and Ellis Island
Opened on January 1, 1892, Ellis Island became the nation's premier federal immigration station. In operation until 1954, more than 12 million immigrants were processed at the station. The main building was restored after 30 years of abandonment and opened as a museum on September 10, 1990. It has been estimated that more than 40 percent of America's population today can trace their ancestry through Ellis Island.Ellis Island is accessible by Statue Cruises boats from Battery Park in New York City and Liberty State Park in Jersey City, NJ.
Last updated: February 26, 2015