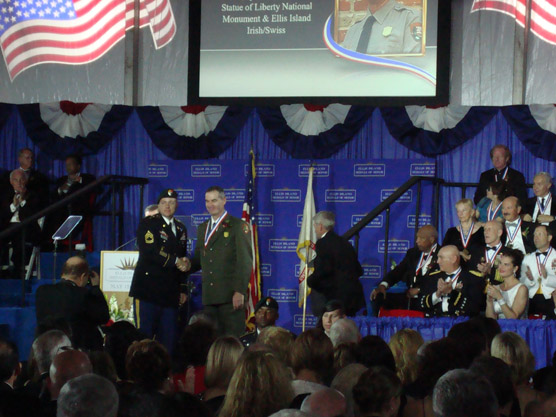 News Release Date:
May 16, 2012
Contact: Mindi Rambo, 212-363-3206 x106
Each May since 1986, the National Ethnic Coalition of Organizations (NECO) has gathered at Ellis Island to present the Ellis Island Medal of Honor to Americans who do one or more of the following:
Exemplify a life dedicated to the American way of hard work, self-improvement and community service.
Preserve and celebrate the history, traditions, and values of their ancestry group(s).
Dedicate themselves to support and defend the values of American life.
Build bridges between ethnic, racial, and religious groups in the U.S. and/or abroad.
Reinforce the bonds between an American heritage group and its land(s) of origin.
Nurture the life of a particular ethnic or heritage group, enabling that group to participate more fully in American society.
Share their personal and professional gifts with the local, national, or international community.
Contribute distinguished service to humanity in any field, profession, or occupation. 
This year's honorees, who came from dozens of disciplines and career fields, included a number of recognizable faces, such as Army Chief of Staff Gen. Raymond T. Odierno, Singer Frankie Valli, boxer Ray 'Boom Boom' Mancini, Congressman Gregory W. Meeks (NY-6th District), actress Brook Shields and our own Statue of Liberty National Monument Superintendent David Luchsinger. 
"Being in the presence of such a remarkable and accomplished group of men and women is truly an incredible experience," said Luchsinger. "Receiving this award with them is overwhelming, and I am honored and deeply humbled by it." 
More than 1,500 people attended the gala event at Ellis Island, whose centerpiece was the ceremony which was punctuated with colorful performances by dancers in the traditional dress of their ancestral countries as well as a special singing of "Isle of Hope, Isle of Tears" by the world-renowned tenor, Ronan Tynan, himself a 2012 Ellis Island Medal of Honor recipient. Following the presentation of the medals, guests took part in a seated dinner in the Great Hall and then headed outside to watch a fireworks display in New York Harbor before heading home. 
According to NECO, "The Ellis Island Medals of Honor celebrate the richness and diversity of American life, honoring not only individuals, but the pluralism and democracy that have enabled our ancestry groups to maintain their identities while becoming integral parts of the American way of life. Both the United States House of Representatives and Senate have officially recognized the Ellis Island Medals of Honor. Each year's recipients are read into the Congressional Record. Past Medalists include six Presidents, as well as Nobel Prize winners and leaders of industry, education, the arts, sports and government."