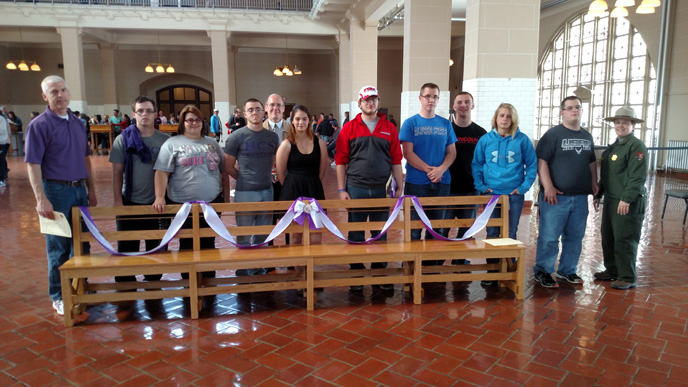 News Release Date:
May 8, 2015 On May 2nd,at 1:30 pm, students from Hammondsport Central School District presented a replica bench to the National Park Service staff at Ellis Island. Each Spring since 2011, students from New York State's Greater Southern Tier BOCES has given a replica bench to Ellis Island, one which they had created in their local manufacturing shops.  [BOCES:  Boards of Cooperative Educational Services.  Learn more at
www.BOCES.org
or
www.GSTBOCES.org
.]
"Connecting students in non-traditional classrooms with both our immigration history and the National Park Service is the goal," said Katherine Craine, National Park Service Education Specialist at the Statue of Liberty National Monument and Ellis Island. The bench, a replica of the originals in the Great Hall, is fabricated over the school year and delivered in early May.
The program came to life during a visit to Ellis Island in January 2010, when New York's Greater Tier Distance Learning Program Coordinator, René Carver asked why so few benches were in the Great Hall. When told of deterioration and removal of most of the original benches, the idea was born. "I was intrigued and immediately thought that there must be some way to have our students get involved in a project at the park," explained Carver. Through coordination between Carver and Craine, other Southern Tier classes have since been equally inspired to add a replica bench to the Great Hall bringing today's total of replica's to four.
The Manufacturing Class at Hammondsport Central School District fabricated this bench between 2012 and 2015. Damage to the park's infrastructure from Superstorm Sandy postponed the original 2013 delivery, allowing students from three years of classes to participate in the creation of this bench. Reaching students who not be able to make the trip, programs were held in Hammondsport covering National Park career opportunities, Ellis Island's history and the construction of the Statue of Liberty.
More than 12 million immigrants passed through the Ellis Island Immigration Station between 1892 and 1924. Most of their time on the island was spent waiting: waiting for a medical exam, waiting for a legal exam, waiting to be reunited with their possessions and, finally, waiting to be reunited with their family members. Those who waited in the Great Hall for the legal exam sat on twelve foot long wooden benches that had been made of pine or oak in the island's carpenter shop.

When the Museum opened in 1990, thirty original benches were set aside for visitors. Over the years many of the benches, now more than 90 years old, have become unsafe for daily use and had to be removed. Today there are six original benches in the Great Hall and three replicas. The Hammondsport bench joins these bringing the total to ten- providing seating for current visitors…to rest and contemplate the experience of our immigrant ancestors.