News Release
Ellis Island National Museum of Immigration to begin $17.7 million infrastructure improvement project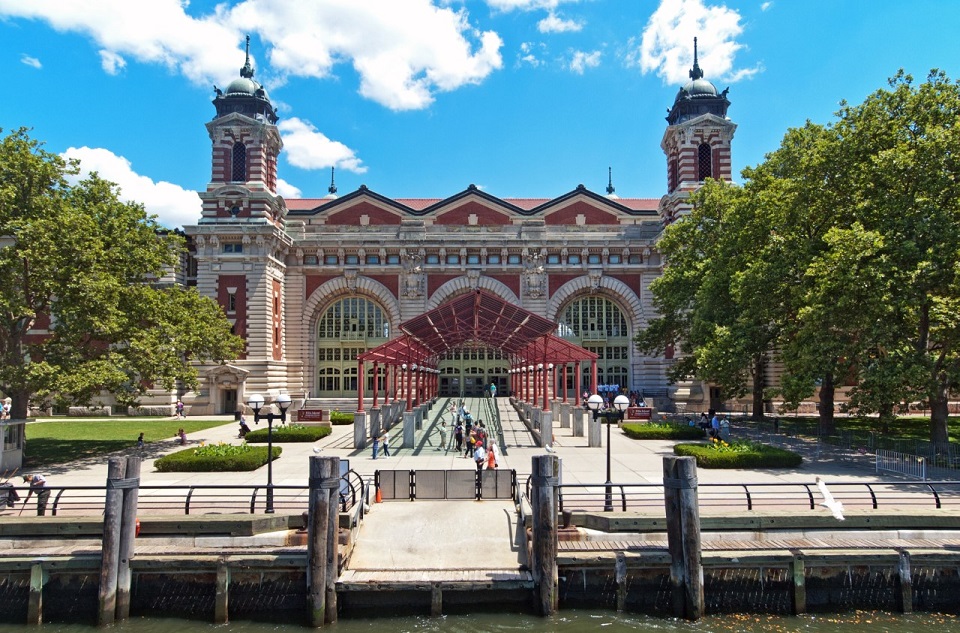 News Release Date:
April 24, 2023
Contact: Jerry Willis, (646) 356-2105
Ellis Island, N.Y./N.J. – The National Park Service awarded an approximately $17.7 million construction contract to rehabilitate the Ellis Island Main Immigration Building. Funded by the Great American Outdoors Act (GAOA), the project will rehabilitate exterior building components, including the masonry facade and clerestory windows. This project will preserve the historic structure and enhance the visitor experience throughout the building. 
"The Main Immigration Building plays a central role in the immigration story of millions of American families," said John Piltzecker, Statue of Liberty National Monument and Ellis Island superintendent. "The preservation work funded by the Great America Outdoors Act will enable millions of visitors each year to continue to experience the grandeur of this building's architecture, trace their family immigration history, and walk in the footsteps of the 12 million immigrants that were processed here." 
Ellis Island became the first federal immigration station in the United States, opening in 1892. Designed in the Beaux-Arts style by the New York architectural firm Boring and Tilton, the Main Immigration Building was completed in 1900, replacing the original wood structure destroyed by fire in 1897. Intended to make an impression from across the harbor, the building's distinctive copper-domed towers, stacked limestone quoins (corner blocks), and massive, ornate windows remain a lasting and iconic architectural statement. 
The GAOA project will restore the building's weather barrier by re-pointing the masonry facade to prevent water infiltration. Replacement of the deteriorating 1980s clerestory windows that illuminate the Great Hall will prevent water intrusion, block ultraviolet sunlight, and provide enhanced thermal characteristics.  The work is critical to the long-term protection of the building to ensure visitors' comfort and protect museum resources. The contract for the work was awarded to Pullman SST, Inc.  
In 2021, the Statue of Liberty National Monument and Ellis Island had 1.6 million park visitors who spent an estimated $101 million in local gateway regions. These expenditures supported a total of 1,110 jobs, $60.5 million in labor income, $98.3 million in value-added, and $149 million in economic output in local economies. In 2022, the number of park visitors nearly doubled to 3.1 million. 
GAOA and other construction funding sources are part of a concerted effort to address the extensive deferred maintenance and repair backlog in national parks. Supported by revenue from energy development, GAOA's National Parks and Public Land Legacy Restoration Fund provides National Park Service with up to $1.3 billion per year for five years to make significant enhancements in national parks to ensure their preservation and provide opportunities for recreation, education, and enjoyment for current and future visitors.     
-NPS-
Last updated: April 24, 2023