Historic Immigration Station turned Immigration Museum
From interactive activities, to ranger-led tours, there are many ways to engage students with the resources available at the Ellis Island National Museum of Immigration.
Parks as Classrooms - Lesson Plans
Self-Guided Activities - Ellis Island worksheets for students of all ages.
Ranger in the Classroom - Free School Outreach Programs for students in Grades 2-5.
 
Complete the Statue Cruises school group form** to schedule your class visit to the monument.
Questions? E-mail us or call 646-356-2180.
**Students in Grades 3 to 6 can also participate in The Journey, Ellis Island's newest role playing activity.  In this 35-minute program, students will play the roles of Ellis Island immigrants as they wait "to be inspected" by the park staff.  The Journey will be available during the months of November through March.  For more information, please email us.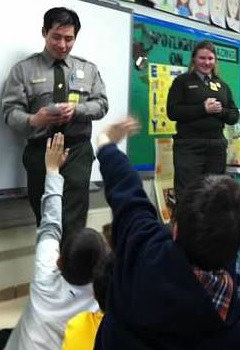 Last updated: November 2, 2016