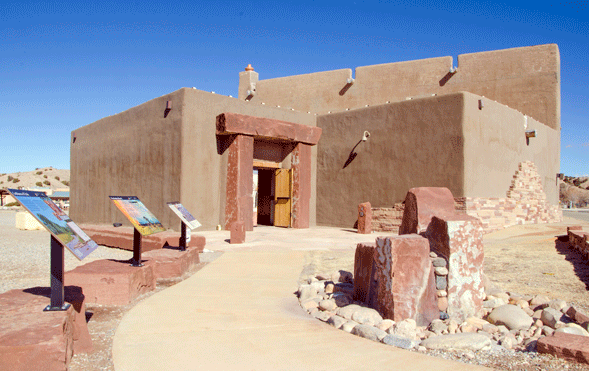 News Release Date:
April 1, 2013
Contact: Lynne Mager, 505-988-6665
Join us at the Poeh Museum, Pueblo of Pojoaque, Santa Fe, New Mexico for the unveiling and dedication of three new outdoor exhibits on Friday, April 5, 2013 at 5:00 p.m. The exhibits were completed through a partnership between the Pueblo of Pojoaque and the National Park Service.
Event Schedule:
5:00 p.m. Welcome, Opening Remarks by Vernon G. Lujan, Project Director, Poeh Museum and Otis Halfmoon, Tribal Liaison, National Park Service
5:10 p.m. Presentation by Aaron Mahr, Superintendent, El Camino Real de Adentro National Historic Trail, National Park Service
5:20 p.m. Presentation by George Rivera, Governor, Pueblo of Pojoaque
5:30 p.m.  Closing Remarks by Vernon G. Lujan
This dedication is followed by an opening reception for the silver anniversary of the Poeh Museum permanent collection from 5:30 p.m. to 8 p.m. Stay awhile!
Address: 78 Cities of Gold Road
From the south: Located 16 miles north of Santa Fe, New Mexico off Highway 285/84.
From the north:  Located 10 miles south of Espanola (Highway 285/84), 54 miles south of Taos, New Mexico (Highway 68).
The Pueblo of Pojoaque was one of 19 pueblos in New Mexico impacted by the Spaniards who traveled north along El Camino Real starting in 1598. The exhibits take you across time: from Pueblo life before 1598 to 80 years of Spanish influence to the Pueblo Revolt to Pueblo culture today. You can read the exhibits at www.nps.gov/elca/historyculture/exhibits.htm
Congress designated El Camino Real de Tierra Adentro as a national historic trail in 2000 as part of the National Trails System. The trail is coadministered with the Bureau of Land Management in New Mexico.
El Camino Real de Tierra Adentro National Historic Trail works with partners to protect, develop, and promote the trail for public use and benefit. Learn more at www.nps.gov/elca and www.blm.gov/nm
More than 20,000 National Park Service employees care for America's 400 national parks and work with communities across the nation to help preserve local history and create close-to-home recreational opportunities. Learn more at www.nps.gov