Education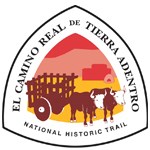 The Great Adventure!
Welcome to the grand adventure! Lessons on El Camino Real de Tierra Adentro will lead you to a traveling experience unlike any other. The four lessons take the traveler from the present to the past and from Mexico City to Santa Fe. Travel through time on highways, back roads, and trails. Discover what was bought, sold, and traded. Learn how a time of exploration shaped our lives today.
Teacher Resource Guide
Teacher Resource Guide for Casa San Ysidro, The Gutíerrez/Minge House along El Camino
Casa San Ysidro is a certified property along El Camino Real de Tierra Adentro. The Albuquerque Museum of Art and History staff designed the Teacher Resource Guide (1.64 MB pdf) to support teacher and student learning about this pivotal period of history in New Mexico. Colonial, Mexican, and Territorial New Mexico are covered.
Lesson Plans
This education package from New Mexico Department of Cultural Affairs, Historic Preservation Division contains the following four lessons:
Lesson 1: Blazing the Trail. Chronology: Cause and Effect
Lesson 2: Travel through Time on El Camino Real de Tierra Adentro
Lesson 3: What to Take, What to Trade?
Lesson 4: Family Stories. Those Who Arrived, Those Who Stayed


Last updated: January 9, 2020