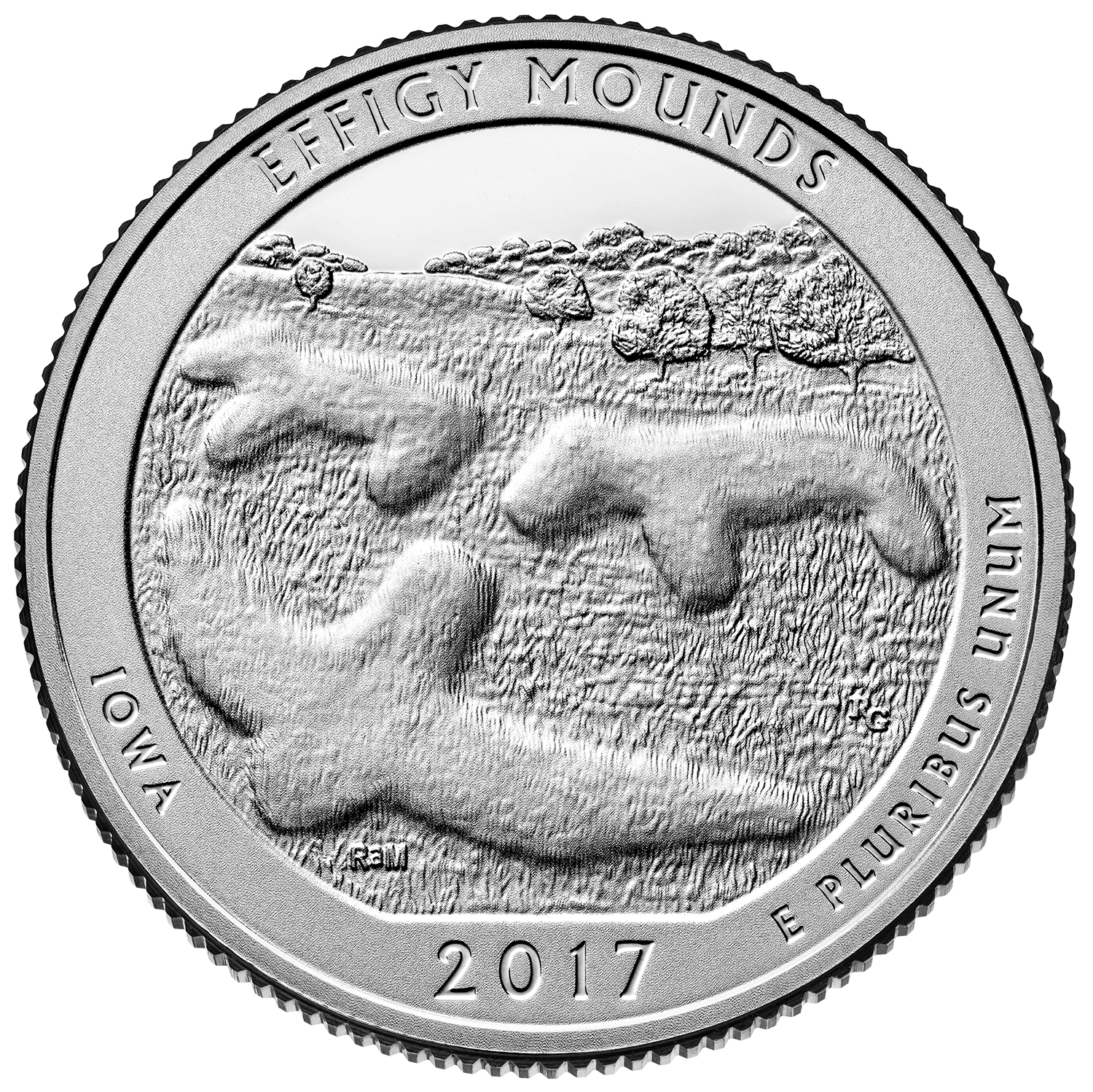 News Release Date:
February 2, 2017
Contact: Bob Palmer, 563-873-3491 ext. 121
Come and enjoy the celebration as the U.S. Mint and the National Park Service release the 36th America the Beautiful Quarter® honoring Effigy Mounds National Monument. Two free events will commemorate the quarter launch. The Coin Collector Forum will be held for the public to hear about the United States Mint and their coin programs on February 6, 5:30-6:30 p.m. in the Effigy Mounds National Monument Visitor Center.
The Quarter Launch and Coin Exchange will be held at the Waukon High School Gym at 10 a.m. on February 7 in Waukon, Iowa. A short ceremony will take place led by KWWL News anchor Jerry Gallagher, with guest speakers Edmore Green, Tribal Chair of Sac and Fox Nation of Missouri in Kansas and Nebraska; Fred Schuster for U.S. Senator Chuck Grassley; Brittney Carroll for U.S. Senator Joni Ernst; Michael Olson for U.S. Congressman Rod Blum; Marc Landry, Plant Manager for the Philadelphia Mint; and Jim Nepstad, Effigy Mounds National Monument superintendent.
Peggy Whitson, NASA astronaut and Iowa native, will give her comments about the quarter from aboard the International Space Station. Renowned Junior Ranger Aida Frey, who earned her first Junior Ranger badge at Effigy Mounds National Monument and has now earned 265, will lead the Pledge of Allegiance. Richard Masters, the coin designer will also be attending.
Immediately following the ceremony, the coin exchange begins where attendees can exchange $10 for a roll of newly-minted Effigy Mounds quarters ($100/10-rolls maximum). The coin exchange is sponsored by Kerndt Brothers Saving Bank in Waukon. All children 18 and younger will receive a quarter provided by the U.S. Mint. Waukon High School is located at 1059 3rd Avenue N.W., Waukon, IA 52172. All events are free to the public.