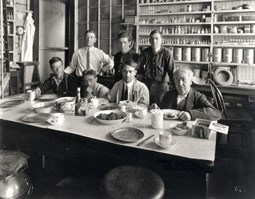 Edison kept busy during World War I. He became a vocal proponent of military preparedness, faced the challenges of rebuilding his West Orange factory after a disastrous fire, chaired the Naval Consulting Board and conducted research aimed at helping the U.S. Navy respond to submarine warfare. Explore these ideas, attend a program, and see a special exhibit of original artifacts, documents and historic photos during the month of May at Thomas Edison National Historical Park.
1st Friday – May 2nd at 2:30 p.m.
In Search of the Edison Chemical Works
About three miles from the Edison Laboratory in West Orange, inventor Thomas Edison ran his Chemical Works plant at "Silver Lake", a neighborhood on the border of Bloomfield and Belleville. Seldom emphasized in history books, the Chemical Works played a key role in the manufacture of several Edison-invented products, like the nickel-alkaline storage battery and phonograph records. In this 30-minute illustrated presentation, historic photographs will reveal a behind-the-scenes tour through the buildings and grounds of the Edison Chemical Works, a forgotten chapter of our industrial past. Also, by matching historic photographs to their present day locations, "then vs. now" comparisons will show neighborhood change over the past century.
2nd Saturday – May 10th at 10:00 a.m. (especially for children)
Keeping Edison Safe
A disastrous fire in 1914 destroyed several of the factory buildings surrounding Edison's laboratory complex. Join a Ranger to find out how you can be safe from fire.
3rd Thursday – May 15th at 7:00 p.m.
Mr. Edison Goes to War: Thomas Edison and World War I
This presentation will reveal the impact of the First World War not only on Edison himself but also on his family and his businesses. Shortly after the outbreak of the war in Europe, Edison became a major spokesman for preparedness, and his ideas spurred the creation of the Naval Consulting Board, on which he served as president. To overcome the shortages of chemicals previously obtained from Germany, he quickly built new manufacturing plants and became a major chemical supplier not only to American industries but also to the European allies and Japan as well. In February 1917, a few months before the United States entered the war, Edison and his assistants began conducting antisubmarine experiments for the U.S. Navy, as well as other military research, at a specially equipped new laboratory at the top of Eagle Rock Mountain in West Orange. Over the next two years, Edison would continue his research aboard the USS Sachem in Long Island Sound, at an office in Washington, D.C. formerly occupied by Admiral George Dewey, and at the U.S. Naval Station in Key West, Florida. The impact of the war on Edison's family is evidenced by the fact that his oldest daughter, Marion, spent much of the war behind enemy lines as the wife of a German Army officer, while his son William fought for the Allies in France as a sergeant in the U.S. Tank Corps.
Special programs in May:
Sunday, May 4th
Cocktail Reception at 1:00 p.m. and LUNA STAGE Matinee of MARISOL at 3:00 p.m.
Join the FRIENDS OF THOMAS EDISON NHP at Luna Stage, 555 Valley Road, in West Orange for the New Jersey Professional Premiere of Marisol by José Rivera, directed by Niegel Smith. Set in early 90s New York City, Oscar Nominee (The Motorcycle Diaries) José Rivera's powerful and poetic Marisol plunges audiences into the story of a young Latina woman forced to navigate a world left in disarray when her guardian angel leaves her to fight a battle of biblical proportion. In the magic realism style of his mentor Gabriel García Márquez, Rivera creates an urban fantasy, filled with humor and pathos, urging society to recover our long-lost compassion and to wrest our world from the brink of destruction. Winner of the 1993 Obie Award.
The Friends of Thomas Edison National Historical Park, is a not-for profit organization dedicated to supporting Thomas Edison NHP in the preservation, restoration and promotion of Thomas A. Edison's laboratory and home through advocacy, volunteer service and fundraising. Event contributions and proceeds will support education programs and preserve artifacts at the Laboratory Complex and Glenmont Estate. For more information or to RSVP call (973) 736-2916 or foe00@verizon.net.
Saturday, May 10th 11:00 a.m. to 5:00 p.m.
2014 SPIRIT of the JERSEYS State History Fair, Washington Crossing State Park, Titusville (Mercer County). Visit the Thomas Edison National Historical Park booth at the Fair. http://www.state.nj.us/dep/parksandforests/historic/centennial/hf-about.htm
Saturday, May 17th - The Sterling Hill Mining Museum, 30 Plant Street, Ogdensburg, NJ
Arrive at 9:00 a.m., Depart at 2:00 p.m.
Thomas Edison and Mining Operations in Ogdensburg, New Jersey
Join the National Park Service and Dr. Paul Israel of the Thomas A. Edison Papers for a day trip to explore the mines of Ogdensburg, NJ, including Edison's iron mine on Sparta Mountain, and the Sterling Hill zinc mine. The Sterling Hill Mining Museum will host our tour of the museum and mines. This will include a general tour and also a focus on some of the technologies, mechanisms, and inventions that relate to Edison's mining in Ogdensburg and in other parts of the world. We will end with a light hike to the Edison mining complex on Sparta Mountain, a short drive from the museum.
The Sterling Hill Mining Museum (http://sterlinghillminingmuseum.org/) and underground mine tour is wheelchair accessible. The mine tour includes a 1/4 mile walk on a dirt floor with a gentle slope. The mine is 55 degrees year-round. The Edison mining complex is accessed by a light hike on an uneven path. Wear sturdy shoes (waterproof hiking boots are best) and a jacket. May is tick season so long pants and a long-sleeve shirt are recommended. Bring your own lunch or buy food at the museum snack bar. We will meet in the parking lot at the museum at 9:00 a.m. Reservations are required and space is limited. For more information or to make a reservation, please call 973-736-0550 ext. 31 or email e-mail usby May 3rd.