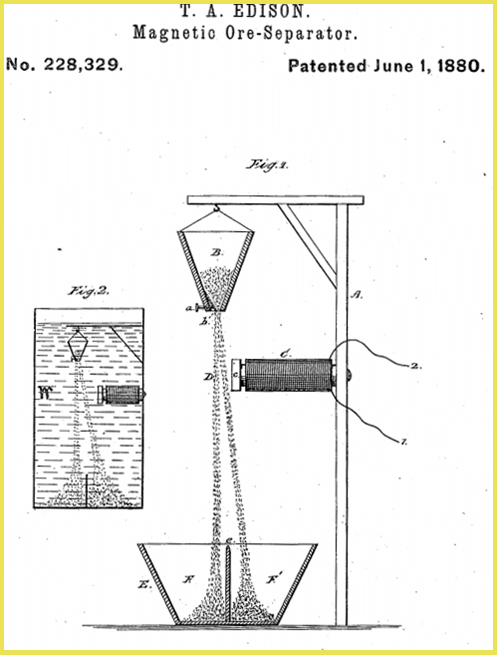 Employing remarkable team work and persistence Edison spent much of the 1890s designing machinery to mine and process iron ore at his
Ogdensburg, New Jersey ore milling plant
, a project that ultimately failed. Explore these events, during the month of March at Thomas Edison National Historical Park. The programs are free and will be held at the Thomas Edison National Historical Park (NHP) Laboratory Complex at 211 Main Street in West Orange unless otherwise noted. The Edison Papers will be offering an ongoing online series over the course of the year in partnership with programming at the Edison's West Orange Lab. Check it out
here
.
1st

Friday

–

March 7th at 2:30 p.m.
Meet the Muckers
Over 100 people worked with Edison at the West Orange Laboratory. Who were the Muckers and what did they do? From
2:30 p.m. to 3:30 p.m.
stop by the various rooms of the laboratory complex and talk with staff about the people who worked in the rooms and what they might have been working on.
2nd

Saturday

-

March 8th at 10:00 a.m.

(especially for children)
Magnetism, Milling and Edison
Learn about magnets and how Edison used them in his inventions, especially in his iron ore separator in Ogdensburg. Join rangers for a short walk through the laboratory complex and a hands-on activity with magnets. Reservations are required and space is limited.
3rd

Thursday

–

March 20th at 7:00 p.m.
"We had a hell of a time": Thomas Edison's Venture in Ore Milling
Dr. Paul Israel will examine Edison's greatest failure -- his decade long effort to mine and process low-grade iron ore in Ogdensburg, New Jersey. Dr. Israel will begin with a look at Edison's long-time interest in mining technology and his earlier ore milling projects. He will then examine the development of the Ogdensburg mine and milling operation, discuss how the project changed over time, and explain why it ultimately failed. He will conclude the talk by looking at how Edison sought to apply the technology he developed there to other mining ventures as well as to his successful entry into the cement industry. Dr. Paul Israel is the director and general editor of the Thomas A. Edison Papers at Rutgers University.