Edison Day 2013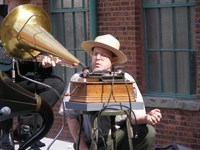 EDISON DAY SCHEDULE OF EVENTS 9:30am - 4:00pm
Wax Cylinder Recording Sessions
9:30am, 11:00am, 12:30pm, 2:00pm, 3:30pm
Be present as recordings are made of musicians on a wax cylinder record just as it would have been done over 100 years ago. Laboratory Complex Courtyard.
Musicians Performing:
9:30 to 10:15 - John Ehlis Ensemble John Ehlis is a composer and band leader living in Montclair, New Jersey. His large group, the John Ehlis Ensemble, is a collaboration of musicians who weave a remarkable musical journey. And this is a group who really listen to one another. The ensemble includes: Thomas Heberer (trumpet), Mikko Innanen (sax), John Ehlis (mandolin), Scott E. Moore (guitar), Yasuno Katsuki (euphonium), Glen Fittin (percussion), and Benny Koonyevsky (percussion). For this occasion, Ehlis has composed a new work inspired by the inventors of this early form of sound recording.
11:00 to 11:45 - Sherita Sherita is an acoustic quartet exploring the sounds of Macedonia, Turkey, Greece, Albania and the Middle East. Named for a pink, fossil fuel dinosaur whose portrait has adorned the corner of Atlantic and Classon Aves in Brooklyn since the 1970s, the group draws from traditional music of the past to create evocative original music of the present.
12:30 to 1:15 - Garden State Saxophone Quartet The Garden State Saxophone Quartet was founded in 2003 at Montclair State University. The four members are classically trained, however, they are well known for their classic rock arrangements. Branching out has given them distinctive performance opportunities, including performing in theaters in New York City.
2:00 to 2:45 - Scott Robinson and Julian Thayer Multi-instrumentalist Scott Robinson and his longtime colleague, bassist Dr. Julian Thayer, will present a selection of short improvised pieces in the spirit of their recent ScienSonic Laboratories release, "Nucleus". Some unusual sounds will be utilized, such as the theremin, which have probably never been heard on wax cylinder before.
3:30 to 4:15 - Oliver and Gene Lake Avant-garde musician Oliver Lake is co-founder of the acclaimed "Black Artist Group" and "World Saxophone Quartet." In 2006, the Mid-Atlantic Arts Foundation honored Oliver Lake with the Melon Jazz Living Legacy Award. Joined by his son Gene Lake on drums, the duo will perform improvised pieces and original compositions.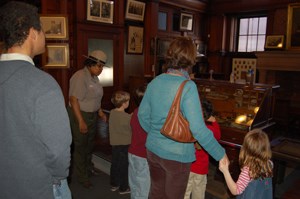 The Marginalia of Thomas Edison
10:30am and 2:30pm Building 5 Library 1st floor
We take for granted that we can take notes on our laptop, or on our mobile phone, but what did Edison do? Stop by and check out Edison's notes.
The Recording Industry: Then and Now
11:00am, 12:00pm, 2:00pm, 3:30pm
Building 5 Library 3rd floor Music Room
Beginning with Edison, an overview of how the recording industry began and evolved into what it is today, employing song samples from each of the different eras of music.
Birth of the Movies
10:30am, 12:00pm, 3:15pm Building 5 3rd floor
Join us for a short discussion and viewing of the beginning of America's foremost commercial art form: motion pictures.
Highlights from the Black Maria Film + Video Festival
1:15pm Building 11
Specially selected award winning films from the Black Maria Film + Video Festival will be presented. Commentary on the films will be presented by Founder/Executive Director John Columbus.
Before Mad Men
11:30am, 1:30pm, 2:30pm Building 4
Join park archivists for Before Mad Men, a 45 minute program on Edison advertising, and learn how his company used color, interesting graphics and snappy copy to promote the phonograph, storage battery and other lab products. Ticket Required.
Laboratory Tour
10:30am Starts next to Building 11
Join a park ranger for a guided tour through the Main Laboratory Building. Tour lasts approximately 45 minutes. Ticket Required.
Thomas Edison and Innovation Management
4:00pm Building 1
The Friends of Thomas Edison national Historical Park will sponsor a talk on the contributions thatThomas Edison made to modern innovation management with Deborah Dougherty, Professor, Management and Global Business Department, Rutgers Business School, Rutgers, the Statae Universtiy of New JErsey. A member reception will follow. If you're not a member, join on Edison Day and attend the reception.
The Blacksmith Shop - New Exhibit
When a machine part broke, where did the company get it fixed? The Blacksmith Shop. Tucked away near the Pattern Shop, stop by Building 7 and see the newly opened exhibit.
Friends and Partners
As you wander around the event, stop by the various tables and meet many of the park's partners and local community groups. There is a lot to see and do in West Orange.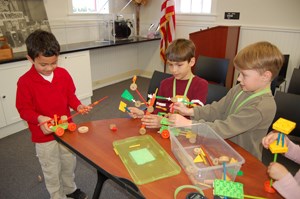 JUST FOR KIDS AT THE LABORATORY
Family Tour of the Laboratory
12:30pm Starts in the Courtyard
Join a park ranger and explore the main laboratory building. Throughout the program kids will complete a series of activities to earn their Junior Ranger badge. Great for ages 7 - 12.
Hands on Inventing
2:00pm Building 5 3rd Floor
How did Edison invent? Was there a process that he followed? Come at 2:00pm and find out how Edison did it! Try your hand at inventing. Great for ages 7 - 12.
While you are visiting, make sure to explore the main laboratory - Building 5 - and take a tour of the chemistry laboratory. Tickets are required for the chemisty laboratory tour.
If tickets are required for a Laboratory event, they may be obtained at the Visitor Center. All tickets are free.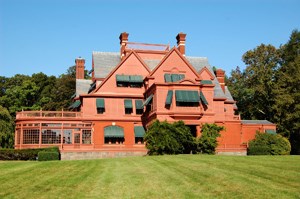 GLENMONT ACTIVITIES
Glorious Glenmont
10:00am - 11:30am and 12:45pm - 4:00pm
Take some time and walk through Glenmont. Can you spot the newly restored lamp? Check with a ranger and see if you are right. Ticket Required.
Outdoors with the Edisons
10:30am, 12:00pm, 1:30pm and 3:30pm
Meet at the Greenhouse
Tour the grounds of Glenmont. Visit the graves of Thomas and Mina Edison. Learn about the Barn and Garage. See why the Edisons loved their estate, Glenmont.
The Power Behind the Heat
11:45am, 12:30pm Meet on the side of the house
How do we heat and cool Edison's mansion? With Geothermal energy! Join us by the basement door for an interesting look behind the scenes. Ticket Required.
Edison and His Cars
10:00am - 4:00pm Glenmont Garage
Did Edison drive himself to work? Did Mina have a favorite car to drive? Did Edison own an electric car? Join us and find out the answers to these and other questions.
Camping with Edison
2:30pm - Glenmont Conservatory
Learn about Edison's famous camping trips. See some of the historic camping photos. Ticket Required.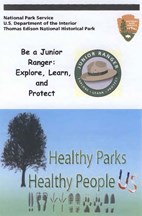 Just for Kids at Glenmont
Kids Corner
10:00am - 4:00pm Tent by Glenmont Greenhouse
Do you know what board game was Thomas Edison's favorite? Parcheesi. Stop by the tent and learn to play. See what other games and challenges await for children of all ages. Every two hours the activities change under the tent. At 10:00am is Chemistry, at 12:00pm Nature at Glenmont, and at 2:00pm Edison and Music.
Junior Ranger Activity - Healthy Parks Healthy People
10:00am - 4:00pm - Tent by Greenhouse
Pick up your activity booklet and explore the Glenmont Estate grounds and have fun while learning about Thomas Edison. Great activity for the whole family.
Where required, tickets are free and available at the Visitor Center in the Greenhouse.
Make sure to get a car pass at the Laboratory before going to Glenmont.
Last updated: May 28, 2013