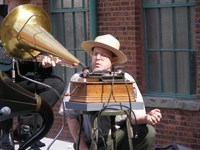 EDISON DAY SCHEDULE OF EVENTS 9:30am - 4:00pm
Wax Cylinder Recording Sessions
9:30am, 11:00am, 12:30pm, 2:00pm, 3:30pm
Be present as recordings are made of musicians on a wax cylinder record just as it would have been done over 100 years ago. Laboratory Complex Courtyard.
Musicians Performing:
9:30 to 10:15 - John Ehlis Ensemble John Ehlis is a composer and band leader living in Montclair, New Jersey. His large group, the John Ehlis Ensemble, is a collaboration of musicians who weave a remarkable musical journey. And this is a group who really listen to one another. The ensemble includes: Thomas Heberer (trumpet), Mikko Innanen (sax), John Ehlis (mandolin), Scott E. Moore (guitar), Yasuno Katsuki (euphonium), Glen Fittin (percussion), and Benny Koonyevsky (percussion). For this occasion, Ehlis has composed a new work inspired by the inventors of this early form of sound recording.
11:00 to 11:45 - Sherita Sherita is an acoustic quartet exploring the sounds of Macedonia, Turkey, Greece, Albania and the Middle East. Named for a pink, fossil fuel dinosaur whose portrait has adorned the corner of Atlantic and Classon Aves in Brooklyn since the 1970s, the group draws from traditional music of the past to create evocative original music of the present.
12:30 to 1:15 - Garden State Saxophone Quartet The Garden State Saxophone Quartet was founded in 2003 at Montclair State University. The four members are classically trained, however, they are well known for their classic rock arrangements. Branching out has given them distinctive performance opportunities, including performing in theaters in New York City.
2:00 to 2:45 - Scott Robinson and Julian Thayer Multi-instrumentalist Scott Robinson and his longtime colleague, bassist Dr. Julian Thayer, will present a selection of short improvised pieces in the spirit of their recent ScienSonic Laboratories release, "Nucleus". Some unusual sounds will be utilized, such as the theremin, which have probably never been heard on wax cylinder before.
3:30 to 4:15 - Oliver and Gene Lake Avant-garde musician Oliver Lake is co-founder of the acclaimed "Black Artist Group" and "World Saxophone Quartet." In 2006, the Mid-Atlantic Arts Foundation honored Oliver Lake with the Melon Jazz Living Legacy Award. Joined by his son Gene Lake on drums, the duo will perform improvised pieces and original compositions.