Twinkle, twinkle little star ; Edison Talking Doll cylinder, metal ; TENHP collection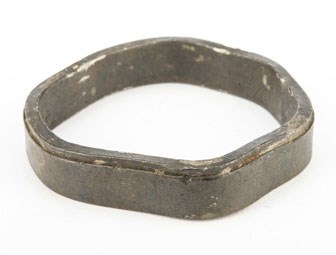 Title: Twinkle, twinkle little star (poem written by Jane Taylor)
Record type: Edison Talking Doll cylinder, metal (prototype design)
Recording date and location: Fall of 1888, Edison Phonograph Works, West Orange, New Jersey
From collection: Thomas Edison National Historical Park, National Park Service
Provenance of the cylinder: National Park Service museum curators first cataloged this cylinder in 1967. It had been found among items left in the desk of Edison's secretary William H. Meadowcroft, located in the library of the Edison Laboratory in West Orange, New Jersey. A paper tag found tied to the cylinder reads: "Tin Phonograph Cylinder […] Record".
NPS object catalog number: EDIS 1279
Thomas A. Edison, Incorporated Historical Division catalog number: E-821-8
Specifications of the cylinder object:
· Estimated outer diameter (if not misshaped): ~ 2.5 inch
· Estimated inner diameter (if not misshaped): ~ 2.2 inch
· Width: 0.4 inch
· Thickness: 0.13 inch
· Groove type: Vertical ; square-cut.
· Groove turns per inch: 50 TPI
· Marking found inside the cylinder: "T"
Source of the digital audio: The cylinder was digitized on May 11, 2011 at the Lawrence Berkeley National Laboratory using IRENE-3D scanning technology.
Twinkle, twinkle little star (Example 1 ; Restored audio)

Edison Talking Doll cylinder, metal National Park Service collection (EDIS 1279) Recording date: Fall of 1888 Playback speed: 80 RPM

Credit / Author:

National Park Service

Date created:

2020-10-14 00:00:00.0
Twinkle, twinkle little star (Example 1 ; Audio not restored)

Edison Talking Doll cylinder, metal National Park Service collection (EDIS 1279) Recording date: Fall of 1888 Playback speed: 80 RPM

Credit / Author:

National Park Service

Date created:

2020-10-14 00:00:00.0
Last updated: April 13, 2015