Twinkle, twinkle little star ; Edison Talking Doll cylinder, brown wax ; TENHP collection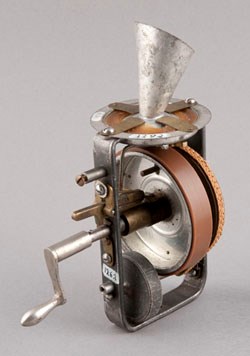 Title: Twinkle, twinkle little star (poem written by Jane Taylor)
Record type: Edison Talking Doll cylinder, brown wax (production design)
Recording date and location: c. February to May 1890, Edison Phonograph Works, West Orange, New Jersey
From collection: Thomas Edison National Historical Park, National Park Service
NPS object catalog number: EDIS 1263
Thomas A. Edison, Incorporated Historical Division catalog number: E-5772-1
Provenance of the cylinder: National Park Service museum curators first cataloged this cylinder in 1967, when it was found attached to a doll mechanism (catalog number EDIS 1262), located in an office room on the third floor of the Edison Laboratory.
Specifications of the cylinder object:
· Outside diameter: 3.0 inch
· Width:0.55 inch
· Groove type: Vertical ; square-cut.
· Groove turns per inch: 65 TPI
Source of the digital audio: The cylinder was digitized on August 27, 2014 at Northeast Document Conservation Center using IRENE-3D scanning technology.
Twinkle, twinkle little star (Example 2 ; Restored audio)

Edison Talking Doll cylinder, brown wax National Park Service collection (EDIS 1263) Recording date: c. February to May 1890 Playback speed: 90 RPM

Credit / Author:

National Park Service

Date created:

10/14/2020
Twinkle, twinkle little star (Example 2 ; Audio not restored)

Edison Talking Doll cylinder, brown wax National Park Service collection (EDIS 1263) Recording date: c. February to May 1890 Playback speed: 90 RPM

Credit / Author:

National Park Service

Date created:

10/14/2020
Last updated: April 12, 2015