Talking Doll Record: Research References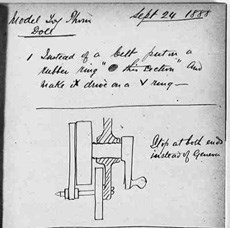 Archival references available from The Thomas A. Edison Papers, Rutgers University:
Edison Laboratory notebook entry of September 24, 1888 (NB011AAI ; TAEM 101:794): Describes a prototype talking doll with a tin cylinder of "Jack and Gill."

Edison Laboratory notebook of October 19, 1888 (NB029029 ; TAEM 102:222): Technical notes that apparently describe the preparation and use of a pre-grooved phonograph cylinder for dolls.

From "Dolls That Really Talk," New York Evening Sun, November 22, 1888 (SC88130a; TAEM 146:357):
"....Then Mr. Edison wound up a brunette doll with jet black curls and sparkling brown eyes. This doll started off at a brisk rate with the following: "Twinkle, twinkle, little star, How I wonder what you are, Up above the world so high, Like a diamond in the sky." …and she recited it with feeling and expression..... There were two young ladies in the room at the time who were continually talking to the tiny speaking machines, which a skilled workman was turning out in great numbers. The cylinders were in reality bands of metal about 2-1/2 inches in diameter, about one-eighth of an inch in thickness, and half an inch wide."

From "Talks With Wise Dolls," New York Press, November 30, 1888 (SC88132A ; TAEM 146:359):
"The sound impressions are on a tin cylinder, large or small according to the number or length of the sentences, which revolves when the clockwork starts it."
Published writings on Edison Talking Dolls:
Rolfs, J. & Rolfs, R. (2004). Phonograph Dolls and Toys. Los Angeles, CA: Mulholland Press.

Wile, R.W. (1987). "Jack fell down and broke his crown": The fate of the Edison Phonograph Toy Manufacturing Company. ARSC Journal, 19(2-3), 5-36.

Last updated: February 26, 2015