Hickory, dickory, dock ; Edison Talking Doll cylinder, metal ; TENHP collection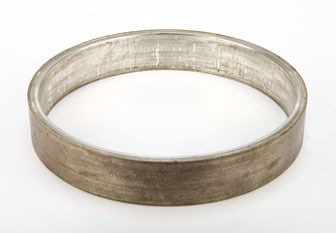 Title: Hickory, dickory, dock (English nursery rhyme)
Record type: Edison Talking Doll cylinder, metal (prototype design)
Recording date and location: probably early 1889, Edison Phonograph Works, West Orange, New Jersey
From collection: Thomas Edison National Historical Park, National Park Service
NPS object catalog number: EDIS 1565
Provenance of the cylinder: National Park Service museum curators first cataloged this cylinder in 1969. It was found attached to an experimental doll mechanism (catalog number EDIS 1564), located in an experimental shop room on the third floor of the Edison Laboratory.
Specifications of the cylinder object:
· Outside diameter: 3.0 inch
· Inside diameter: 2.75 inch
· Width: 0.5 inch
· Thickness: 0.12 inch
· Groove type: Vertical square-cut.
· Groove turns per inch: 50 TPI
· Markings found inside the cylinder: "hickory 120" "T 130".
Source of the digital audio: The cylinder was digitized on July 25, 2011 at Thomas Edison National Historical Park using an Archeophone cylinder playback machine.
Hickory, dickory, dock (Restored audio)

Edison Talking Doll cylinder, metal National Park Service collection (EDIS 1565) Recording date: probably early 1889 Playback speed: 95 RPM

Credit / Author:

National Park Service

Date created:

10/14/2020
Hickory, dickory, dock (Audio not restored)

Edison Talking Doll cylinder, metal National Park Service collection (EDIS 1565) Recording date: probably early 1889 Playback speed: 95 RPM

Credit / Author:

National Park Service

Date created:

10/14/2020
Last updated: April 12, 2015