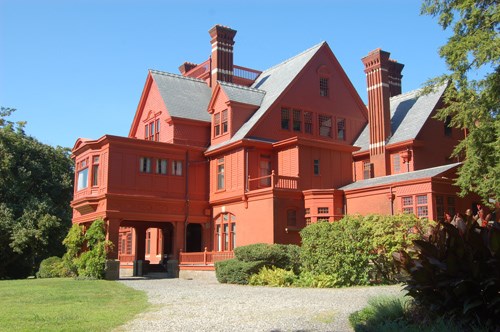 Exciting News at Glenmont
It's been a busy winter at Glenmont and spring/summer are going to be even busier. Currently, three bedrooms - a servants, Madeleine's and Thomas and Mina's, are being restored. Walls and ceilings are being conserved. Analysis of the historic paint finishings is currently underway, and will be followed by the painting of the walls and ceilings. When those rooms are complete, some infrastructure work, mainly on the historic pipes in the house will begin.
Starting at the end of March, some much needed roof repairs on the mansion will begin. This will require scaffolding and boom trucks and most areas around the home will be blocked off for safety. A new weatherproof protective coating will replace old rotten materials on the flat roofs of the home. Weather permitting, the project will finish some time in July.
Starting a little later this spring a project to resurface all the roads around the estate to a more accessible surface will begin. The paving blocks around the main driveway will be reset and the roads and paths regraded. A chip seal top coat will be applied to look like the original surface of the historic driveways. The project also includes restoring long forgotten paths around the estate grounds as well as creating a wheelchair accessible path back to the Edison's gravesite. Weather permitting, this project will finish by late summer.
It is all very exciting work and will make the Glenmont Estate an even grander place to visit. Due to the amount of equipment and preservation work taking place throughout the estate, visitation will be limited, possibly through the summer. We will be offering preview days at the estate until the project is completed. Spring preview days are May 7, 21, 28 and June 11, 24 and 25. Selected areas of the house and grounds will be open from 1:00pm – 4:00pm each day. Tickets to Glenmont must be picked up at the Laboratory Complex visitor center– 211 Main Street, West Orange, NJ. Stop by and see all the wonderful work in progress, then come back later in the year to see the completed projects. When new preview days are listed, they will be posted on the
Operating Hours and Seasons
page of the website.