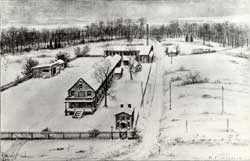 Moves to West Orange at the age of 40, the future still looked bright for Thomas Alva Edison. He also had hundreds of patented inventions. For almost ten years already, he had toiled away at his direct current electric power system. He and his "muckers" had designed light bulbs and dynamos at his small lab in Menlo Park, New Jersey. Lower Manhattan already glowed with his incandescent lights. Newspapers called him the "Wizard of Menlo Park."
He had also bounced back from the death of his first wife. The year before he had married the 20-year-old Mina Miller. Just before their wedding in February 1886 he had bought her Glenmont, a 13-1/2 acre estate with a three-story mansion, located within the private community of Llewellyn Park in West Orange, New Jersey. Edison had never lived like this before. Most men might be happy with love, wealth and comfort. But Edison needed more. He needed to use his genius.
The Wizard had outgrown the laboratory that had made him famous. He needed a lab as big as his dreams. So he built one down the hill.