Cultural Landscapes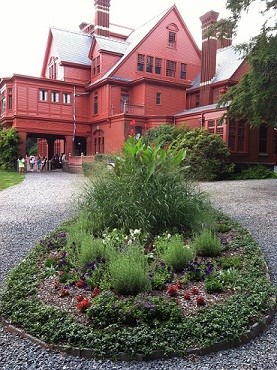 Glenmont Estate
The Glenmont Estate is located in Llewellyn Park, a planned community begun in 1853 (platted in 1857) by Llewellyn Haskell. With assistance from Alexander Jackson Davis, landscape architects Eugene Baumann and Howard Daniels, and others, Haskell created a picturesque residential suburb that included curvilinear roads, native and exotic trees, and rustic architecture. Llewellyn Park Historic District is listed on the National Register of Historic Places. It is considered the country's first planned residential community and is significant for its landscape architecture, community planning and development, and architecture. Even though trees on the edges of the Glenmont property dated 1845 predate development of Llewellyn Park, they were purposely incorporated into its plan of keeping native trees which contribute toward the naturalistic and picturesque styles of landscape design.
The Glenmont grounds remained undeveloped until Henry Pedder purchased the property in 1879. New York architect Henry Hudson Holly designed Glenmont for Henry C. Pedder who spared no expense to furnish it in opulent Victorian style and hired the noted New York firm of Pottier and Stymus to decorate it. During construction of Glenmont, the first owner Henry Pedder made significant improvements to the surrounding landscape. From 1880 to 1882, Pedder commissioned Nathan Franklin Barrett to lay out the Glenmont grounds. With the exception of the mature vegetation along the periphery of the property, the Glenmont grounds were largely open in character in the 1880s.
Shortly after completion of the house, trees and shrubs were planted to enhance the beauty of the grounds, frame views, and screen service areas. Deciduous and evergreen trees (mostly maples, beeches, ash, oaks, Norway spruce, and white pine) were thoughtfully laid out along the paths and drives, while others were arranged in groups. Various evergreen and deciduous trees were planted around the service areas, intended to screen the less desirable views. Single specimen trees, primarily located in the south and west lawns, were placed near the house and admired for their beauty. Specimen trees found on the property included a Nordmann's fir, copper beech, weeping beech, weeping cherry, weeping spruce, paulownia, and Sargent weeping hemlock.
Thomas Edison purchased Glenmont in 1886. Mina Miller Edison, wife of Thomas Edison, assumed the lead role in the management and operation of the Glenmont grounds.
Last updated: February 26, 2015