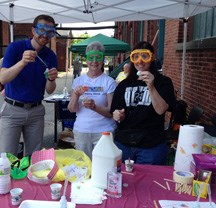 Edison Day 2014 - What a Day!
Approximately 3500 people came to Edison Day. There was something for everyone-from science experiments to an electric car show.
The day began at 10 am at both the Laboratory Complex and at Glenmont. At the Laboratory a visitor could attend a wax cylinder recording session, try out some science experiments (sponsored by the American Chemical Society), earn a Junior Ranger badge, take a look at a 1927 Isotta-Fraschini Tipo 8 A S Roadster which was highlighting the 2015 Edison Concours Elegance. Visitors could learn about Historic Speedwell and try their skills at telegraphy, view winners of the Black Maria Film Festival and find out more about New Jersey's 350th anniversary.
Glenmont, Edison's home, was host to an electric car show as well as showing off Edison's electric cars. One could walk through the home, take a tour of estate grounds and make an origami pot to plant a sunflower seed. Visitors could even play Edison's favorite game Parcheesi.
Check out some pictures of Edison Day 2014: