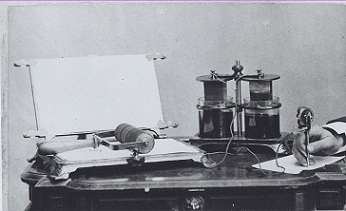 Edison's electric pen, invented in 1875, is now on display at Thomas Edison NHP for the remainder of October. The temporary exhibit is part of the park's Year of Innovation* celebration, which coincides with the 350th Anniversary of New Jersey. October also features the release of Edison and the Rise of Innovation, written by archivist Lenny DeGraaf.
Each month the park will feature an exhibit dedicated to particular theme chosen from the chapters of the new book. The pen is one of Edison's earliest inventions and is a part of October's theme, "Education of an Inventory." Also on display are original drawings of the pen's design as well as example sketches made with the pen.
Edison invented the electric pen in 1875 with the assistance of Charles Batchelor. The pen-like shaft had a reciprocating needle that was driven by a small motor powered by a wet-cell battery.
As the user wrote or drew on a wax stencil, the needle made thousands of perforations per minute. The stencil was then placed in a press, and a roller forced ink through the holes, creating multiple copies (up to 15,000 according to Edison's advertisements).
The battery was a drawback, however; clerks complained that it was messy, heavy, and expensive. Despite that, sales proved strong across the United States, Europe, and Latin America. By the 1880s, typewriters became more widespread, and mechanical pens that did not require batteries appeared on the market. The electric pen later evolved into the mimeograph and the tattoo needle.
Be sure to stop by this month and see the electric pen, and stay tuned for next month's theme and exhibit!
*Thomas Edison National Historical Park archivist Leonard DeGraaf will present a talk and sign copies of his new book, Edison and the Rise of Innovation on October 30 at 6:30 pm at Thomas Edison NHP in West Orange, NJ.
Published by Sterling Signature and produced in association with the Edison Innovation Foundation, the Charles Edison Fund and the National Park Service, Edison and the Rise of Innovation chronicles Edison's long career as an innovator of ground-breaking technologies. The book draws on Edison's personal and business letters, drawings, advertisements and modern and historic photos to reveal the places where Edison lived and worked, including his labs in Menlo Park and West Orange.
The Friends of Thomas Edison NHP will provide light refreshments at a reception following the presentation. The book will be available for purchase.
The program is free but seating is limited and reservations are recommended. Reservations can be made by calling 973-736-0550, ext 89.